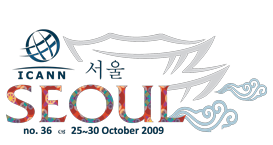 The ICANN meeting in Seoul will be starting next weekend and we will be attending.
The agenda will, as usual, be varied with topics covering the many different areas of internet policy, current topics and the future.
One of the hottest topics (again!) will be the introduction of new TLDs (domain extensions).
Other topics such as IDNs, security and ongoing policy development should make for some interesting and lively sessions.
I'll be involved in a session on abuse:
The Role of Contracts and Compliance in Protecting Consumers from Abuse of the DNS
The other panelists include:
David Giza (ICANN); Hong Xue (AtLarge@china and Chinese Domain Name Alliance); Cliona Curely (Serious Organized Crime Agency); Rosemary Sinclair (Member, Australian Communications Consumer Action Network)
The topic under discussion should be pretty interesting:
The panel will discuss challenges faced in protecting consumers and how enhanced compliance efforts can enable interveners and law enforcement personnel in responding to malicious conduct involving the DNS. The panelists will identify the key abuse of the DNS challenges faced by consumers, and will suggest possible solutions, including additional tools or contractual provisions, such as the RAA, Acceptable Use Policies, Expedited Registry Request Process, or other resources that could be beneficial in enhancing the Community's response to protect consumers.
That may sound quite dry, but the topic of "DNS Abuse" is something that affects everyone. If you've had a phishing email then you've been affected. If you've received a spam email, then you've been affected.
Will a meeting like this during ICANN have any real and tangible impact? In the short term, no. In the longer term, I would hope so.
Which leads to a question that some people ask.
Why do we go to ICANN meetings?
The answer is very simple – they're incredibly useful.
On average about 1000 people attend each ICANN public meeting (more than 900 people are registered for Seoul) and they come from very diverse areas.
You'll find registry operators, registrars, lawyers, law enforcement, government officials, consumer groups and many many more. They'll range from hardcore geeks through to slick salespeople, but most of them are fun people to hangout with!
They all share a common interest (the internet) , though their own motives and interests may be very diverse. At an ICANN meeting you can get to swap ideas with people from all over the globe which makes it all worthwhile.
Even if you can't make it to Seoul in person quite a few of the sessions will be streaming live – some with audio and video, others with audio only. (Full details are on the meeting site)
If anyone is planning on heading to Seoul for the meeting be sure to "ping me"