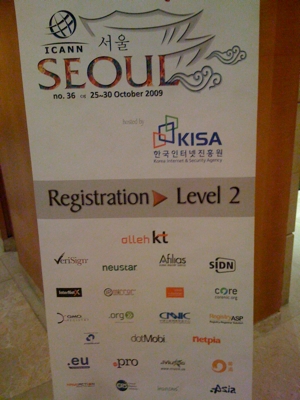 I'm currently in Seoul, South Korea, for the ICANN meeting. Officially the meeting doesn't start until tomorrow morning, however the venue hotel has been buzzing for the last two days.
If you're not familiar with how ICANN works then a lot of the meetings may seem terribly confusing, as the ICANN community loves its acronyms!
Over the weekend there have been quite a few meetings involving the GNSO (Generic Names Supporting Organisation).
Topics being discussed include new gTLDs (ie. new domain extensions such as .gay, .sport,.nyc etc.,), IDN ccTLDs (see some of my previous posts) and the usual mishmash of updates on existing policies.
However, like so many conferences that I attend, the real work takes place outside the formal conference setting. It's a wonderful opportunity to meetup with people from a wide range of different backgrounds and interests and people who are "at each other's throats" in sessions usually head off to the bar afterwards to have a few drinks and work out their differences.
I'll be posting a few more updates from Seoul over the course of the week and hopefully I'll have some nice photos to go with them!