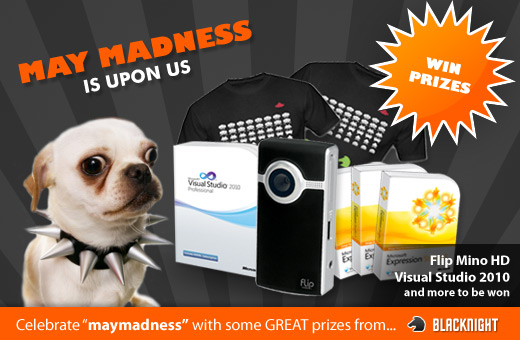 We give away tshirts, mugs and other things from time to time, but it's always been a little haphazard.
Not that there's anything wrong with being haphazard or spontaneous ..
So we've decided that we'd put together a few things to bring you a veritable bonanza of goodies.
Remember our "May Madness" hosting and domain offer? Well this expands on it ..
So here's what we're going to do ..
Any domain orders placed during the month of May 2010 will be entered in the draw with winners being announced at the beginning of June 2010.
The prizes on offer DO NOT include the dog. He's not ours, so we can't give him away – sorry!
They do, however, include the following:
1 x Flip Mino HD
1 x Visual Studio 2010 (courtesy of Microsoft Ireland)
1 x Expression Studio 3 (courtesy of Microsoft Ireland)
Blacknight Tshirts
$random goodies from registries that we have lying around the office
We're going to be offering other cool goodies and prizes over the next couple of months, so keep your eye out for the details…
Want a domain name, but not sure what to get? Why not try our domain name suggestions' site?
Want our latest domain name and hosting offers? Check them all out here!
Got a question? Why not leave a comment?
NB: Employees of Blacknight (including their cats and dogs) are not eligible to enter.