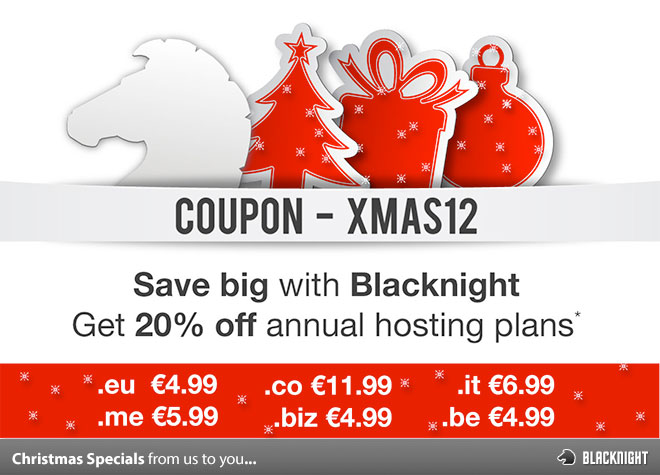 We're not shy about sharing our news and offers, so our super duper PR person extraordinaire put together a press release for us in record time.. and it's now winging its way across the interwebs  to spread the news ..
What's it about? Our super duper Christmas discounts of course!
Here it is ..
Blacknight Ring in the Holidays With Happychristmas.me and Big Domain Discounts

Leading Irish registrar encourages customers to start 2013 off right with new domains.

December 7, 2012 – Carlow, Ireland – Blacknight are playing Father Christmas this year with deep discounts on domain names at Happychristmas.me.

Throughout the holiday season, Ireland's leading domain registrar and hosting company are offering discounts on .EU, .ME, .CO, .BIZ, .IT and .BE domains. Now is the perfect time to stock up on domains to launch an online business, website or blog. Everyone deserves a little something extra at Christmas and Blacknight invite customers to give themselves the gift of domains. .EU domains start at €4.99, .ME is €5.99, .CO is €11.99, .BIZ is €4.99, .IT is €6.99 and .BE is €4.99.

Michele Neylon of Blacknight explains: "We wanted to do something special for our customers for the holidays and since we can't very well come down their chimneys, we created Happychristmas.me. We chose a .ME domain because we know everybody likes to buy themselves a little something at the holidays, and the best gift you can give yourself is a domain name to promote your business, website or blog."

Domains aren't just a great gift, they are the perfect way to jump start a New Year's resolution to reinvent an online identity, change a business strategy or start a project that has long been on hold. This is also a great opportunity for those who don't already have a space online to get started.

Neylon continues: "The holidays are the perfect time to get the pieces in place to create something different for the New Year. We wanted to offer customers the opportunity to get a head start on their online resolutions by making it even more affordable to register the domains they want. "

The company is also offering big discounts on annual hosting plans.

These discounts pair perfectly with Blacknight's suite of services, which include hosting, cloud hosting, business email, storage and SharePoint.

The Happychristmas.me promotion will last through the holidays.
Use the coupon code XMAS12 to activate the discounts at checkout.

To take advantage of this holiday domain promotion, please visit http://www.happychristmas.me

To learn more about Blacknight's suite of services please visit http://www.blacknight.com

About Blacknight:
Blacknight are an Irish based, ICANN accredited domain registrar and hosting company. Recipients of several awards for their revolutionary use of social media, Blacknight are one of Europe's most cutting edge Internet companies. Blacknight constantly seek to lead the way by introducing innovative solutions for its client base and provide dedicated servers and colocation as well as a comprehensive range of Microsoft Windows and Linux based hosting plans and domain name registration services to business globally.