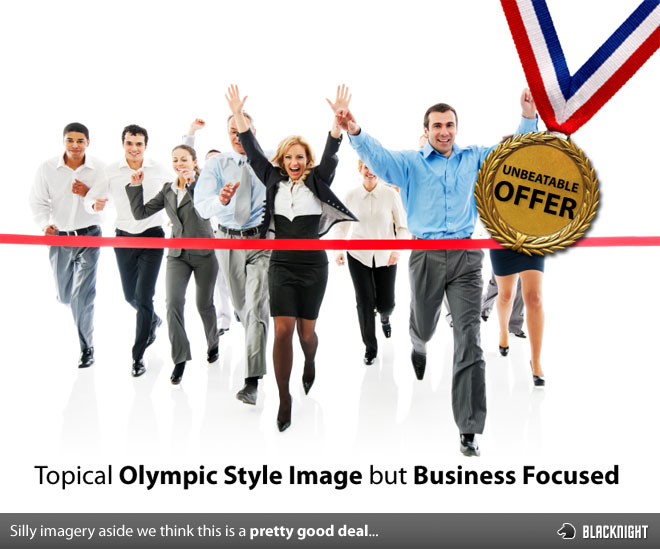 In the run up to the long weekend here in Ireland we put out a press release this morning about our latest discount offer on both .co and .me domain names. Oddly enough we were chatting with .co's Crystal Peterson for the technology.ie podcast last night (the show should be out later today!), so it's quite timely that we announce an offer with a focus on .co (and .me – of course!)
So here's the release and please let your friends know about the offer – it's a really good one!
August 3, 2012 – Carlow, Ireland – Ireland's number one domain registrar and hosting company love domains and firmly believe there is no price point that is better than free.

Customers who order a Blacknight Maximus hosting plan (http://www.blacknight.com/maximus-hosting.html) with 600GB of monthly transfer and 30GB of diskspace (either Linux or Windows Server 2008) for 1 year will also receive a .co or .me domain name free for the first year
.co and .me are both popular alternatives to .com and are favoured by start-ups and forward thinking businesses and users branding themselves online. Both domains are short and memorable with plenty of great domains still available.
Michele Neylon of Blacknight explains: ".co and .me are valuable domains with millions of great registration possibilities. As both extensions are still quite "young", it is easy to register almost any name you want for your business, website or blog."

Customers who prefer a smaller hosting package will not be left out. Blacknight is offering a large discount on first year .co and .me registrations with the purchase of the Minimus (http://www.blacknight.com/minimus-hosting.html) annual hosting plan (Linux or Windows Server 2008). The Minimus plan allows customers to get a .co domain name for €7.99 or a .me domain name for only €4.99 for the first year.
Neylon continues: "Blacknight is committed to fostering a diverse domain eco system online and continually look for an excuse to expose our customers to cool new things. We are big fans of .co and .me because they are often the catalyst of very successful examples of what happens when users get creative with domains."

To take advantage of these promotions, customers must order a minimum of 1 year of hosting and the domain name simultaneously as these offers only apply to new domain name registrations when ordered at the same time as an annual hosting plan.
Visit http://www.blacknight.com to get your free .co or .me domain with hosting today.

About Blacknight:
Blacknight are an Irish based, ICANN accredited domain registrar and hosting company. Recipients of several awards for their revolutionary use of social media, Blacknight are one of Europe's most cutting edge Internet companies. Blacknight constantly seek to lead the way by introducing innovative solutions for its client base and provide dedicated servers and colocation as well as a comprehensive range of Microsoft Windows and Linux based hosting plans and domain name registration services to business globally.
Related articles