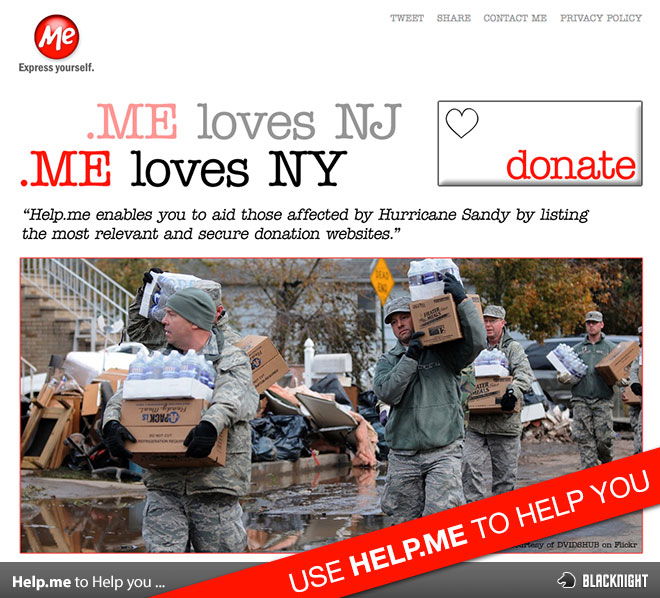 We've just released this press release and it's for a worthy cause.
November 15, 2012 – Carlow, Ireland – Philanthropist registrar and hosting company Blacknight joins the DotME registry in promoting Help.Me, a global disaster relief initiative.

Help.me (http://www.help.me/) is a disaster relief website created by the team behind .ME (http://www.domain.me), the Internet domain name extension for people. Inspired by the effort to assist communities on the eastern seaboard of the United States that were hardest hit by Hurricane Sandy, Help.me is a resource that expedites the process of finding reliable ways to donate to relief organisations.

Help.me matches donors with relevant and secure donation websites assuring donors that the funds they are contributing have the greatest chance of reaching their intended targets. Help.me assists in closing the time gap between when a disaster occurs and when relief donations are made.

Michele Neylon of Blacknight (http://www.blacknight.com) explains: "At Blacknight we are passionate about philanthropy and we couldn't be more excited to get the word out about Help.me. The DotME registry has a fantastic asset – its own reserve of premium names. In this instance, they are using a premium domain name in the best way, to help the people affected by the devastation wrought by Sandy. We want to aid this program in any way we can."

DotME Registry CEO Predrag Lesic explains, "When a tragedy like this happens, we feel it is our duty to help. As an organisation, we are passionate about connecting people with the resources they need to make a positive change. Please give anything you can, every bit helps."

As media coverage and the public's sense of urgency to send aid lessens, Blacknight want to remind people of the Help.me initiative and that there are still many without electricity, heat, food, water or shelter who need help.

Neylon adds: "It is easy to get distracted, but we must remember that there is nothing more valuable than our lives and the lives of those around us. This is one of the very best examples of a domain name being put to work to benefit fellow human beings and we look forward to the ways this might influence others to use their domains for a greater good."

While Help.me is currently devoted to helping the victims of Hurricane Sandy, the site will remain live, transitioning into a general international aid program when the time is appropriate.

To learn more about Help.me and use its resources please visit http://www.help.me

For more information on Blacknight's programs and services please visit http://www.blacknight.com

About Blacknight:
Blacknight are an Irish based, ICANN accredited domain registrar and hosting company. Recipients of several awards for their revolutionary use of social media, Blacknight are one of Europe's most cutting edge Internet companies. Blacknight constantly seek to lead the way by introducing innovative solutions for its client base and provide dedicated servers and colocation as well as a comprehensive range of Microsoft Windows and Linux based hosting plans and domain name registration services to business globally.