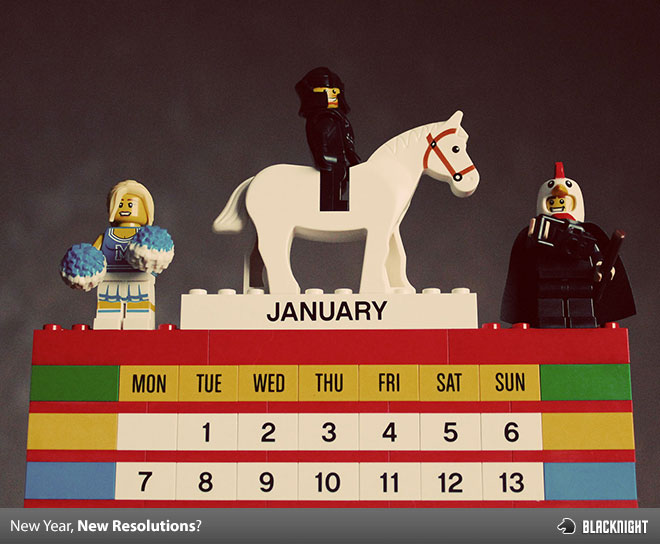 Everyone seems to be writing their new year's resolution  posts over the last few days,  so rather than tell you that we're going to give up chocolate or cut down on coffee, why don't we share some tips that you could add to your new year's resolutions for your business?
Get a blog (of course you can ignore this one if you've already got one)
With all Blacknight shared hosting platforms ( minimus / medius / maximus ) you can use the Application Vault to install your very own WordPress blog.
Post more content.
This is probably one that people struggle with the most writing content. There's always something to write about. What's going on with your company? What about your industry? New hires? New products? Promotions, Sales, "How to" articles all useful. If you need inspiration then look at what other companies are talking about on their blogs. Don't copy them, but do get inspired by them!
Spell check your content
Ask a friend to double check your content. Incorrect spelling and grammar looks unprofessional.
Create a newsletter
Where do you start? Mailchimp is a good starting place. It lets you create and manage lists. Design newsletters, test and send. Best of all? It's free if you've less than 2,000 subscribers.

Invest in images / imagery for your site / posts with Fotolia.
We've been mentioning this a while over the last month or two. It's worth taking your blog posts up a notch with some nice imagery. Find out more on our pre-Christmas post Spruce up your site.
Learn something new. There's always new things that you can learn about or improve or refresh your existing skills. If you want to hone your "tech" skills there are plenty of online resources you can use – I quite like Tuts
Create a personal blog
This goes hand in hand with number 1 & 2 above. Post more content. If you're not comfortable posting on your company blog why not try your hand at writing on a personal blog? Practice makes perfect.
Make your site mobile friendly.
In the past year we've blogged about mobile and we've mentioned goMobi, a highly cost effective solution to making your website mobile friendly in minutes. Read our original post here and think of the hungry dragons.
You can have a read of Stewart's Introduction to Responsive Web Design that proved quite popular on our blog and then see Francesco's (of Dot Mobi) article Everything you wanted to know about mobile but were afraid to ask.
It's something you shouldn't be ignoring if you're serious about your online business.
Accept Credit Cards online. If you're reaching the limits of what you feel you can do with PayPal or simply accepting payments via cheque for your business why not look into accepting credit card payments with Realex ?
WP Super Cache is your friend. Of course this one is specific for WordPress but it goes without saying whatever Content Management System you use you need to have caching enabled on it. Why? It allows you to serve up your pages faster and means you can handle more traffic. In general every time you load a page the database gets queried multiple times. If your site is low traffic and you just have 1 page getting loaded this is fine. What happens if 10 people load the same page at once? 20? If you've got caching enabled, you reduce the load on the server by basically serving up static pages that get refreshed periodically.
Backup. Backup. Backup. We can't stress this enough. Backup your files and your database. If you're running a MySQL database, the phpMyAdmin tool lets you easily export your database so you can store a copy locally. Going to do an upgrade? Backup first. Only have one hard drive that you've backed up all your photos on? Think about making a backup of them whether locally or online.
Update your software. Keep your software up to date. Bugs and security holes are encountered all the time. Keeping both your website software and your desktop software up to date is important.
We'll leave you with .net's top 20 Web Design and Development trend predictions for 2013. Mobile is big news.