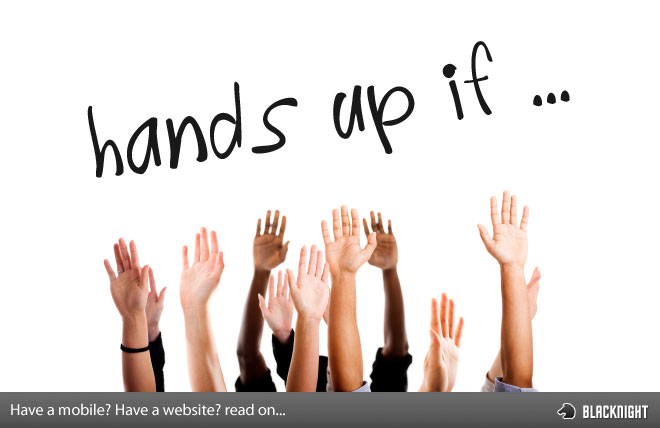 Hands up if you know someone with a mobile phone
Hands up if you know someone who uses the internet on their mobile
Hands up if you use the internet on your mobile
Hands up if you have a website
If you're reading this post you've probably thought about putting your hand up at least 3 times and I know that a lot of you will simply have answered yes to all four answers in your heads.
Mobile is changing things for a lot of people. You wake in the morning do you set your alarm on your mobile phone? Do you check the time .. hit snooze or slide unlock the screen and check if you've got any messages. Check the latest news. Check in on your Facebook account to see what friends and family are up to?
You're out and about and you need the number for a store do you ring directly enquiries or do you do a quick check on Google to find their website and find their number from that? You grab their directions and opening hours too while you're at it because they've a nice fast mobile website. Oh wait hang on do they have a mobile website?
The other day I was playing with Google´s new fancy mobile statistics portal at http://www.ourmobileplanet.com and discovered quite a few interesting things about mobile users behaviour in Ireland.
For example, it turns out that over 30% of the Irish smartphone owners regularly look for local information on their mobile devices at least once a week (21% of them already do it every day).
What is even more interesting though is what all these people did after they searched:
With these odds, it´s definitely no surprise that more and more business owners are finally taking the plunge and are picking up Blacknight´s goMobi offer to turn the growing number of people who every day surf the web on their mobile phones into new business.
A goMobi site is not only a very affordable investment for your business (not to mention you can try it for free for 30 days first), but most importantly even the less technically inclined users find it very simple and fast to use. In a just a few minutes it is possible to create a professionally-looking mobile website that works on any kind of mobile phone and makes it very easy to engage with mobile visitors.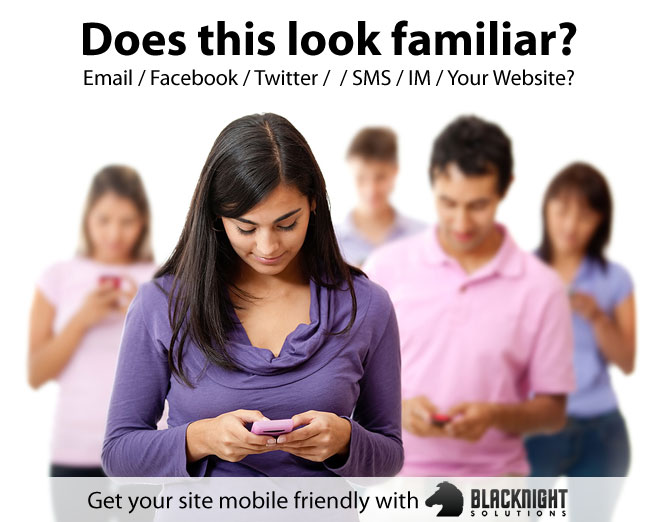 With this mind, I thought I´d share with you a few quick and easy tips on how to make your goMobi site go the extra mile.
1)    Be relevant
Search on mobile is very often about something the user needs "right here and right now", so it´s no surprise that users searching on mobile have a higher propensity to act on their searches than on desktop. With this mind, there is no bigger frustration than clicking on a link just to end up on a large website that loads slowly on mobile and that forces mobile visitors to spend a significant amount of time looking for the information they need.
Your mobile website should instead give your visitors access to key information about your business and help them make up their mind and act as easily and quickly as possible.
So when putting together your goMobi website don´t try to make a smaller copy of your desktop site, but really do put some thoughts into what kind of information would be more relevant to someone looking for a business like yours "right here and right now", and really only focus on the pieces of information that can make a difference in that context.
Think for instance that "Opening Hours" is among the most common searches on Google on mobile, and consider that sometimes a small special offer like a "Coupon just for our mobile visitors" is all it takes to convince a potential client to give you a call.
At that point, you will want to make sure the "Call Us" function is setup and prominently positioned on your goMobi site (it can be a good idea to include the country code when adding your phone number, for the occasional foreign visitor). If you rely on customers visiting your premises (for instance, if you run a restaurant or a shop), then you must not forget to enter your address in the "Find Us" function, so that visitors can easily get turn-by-turn directions right to your doorstep on Google Maps in their smartphone with just one click.
GoMobi comes packed with loads of interesting and useful features, and if you just spend some time "walking in your mobile client´s shoes" you´ll be able to create a great looking mobile site that just keeps on giving. To get started, I would definitely recommend watching James' great video tutorial
2)    Capture ALL mobile traffic
If you use Google Analytics and check your desktop website´s stats regularly, you have probably also already noticed a growing number of visits coming from mobile devices. Right now, these are all potential clients that struggle with your desktop site on mobile and are probably giving up on you and going somewhere else.
If you have been around for a while, chances are that your existing desktop site has been indexed by search engines and has a fairly good ranking. Furthermore, people talking about you online are probably linking to your site and if you have ever done any advertising you have probably printed your website´s address all over it.
As you get serious about mobile, you obviously want to make sure that all that effort you have put in promoting your desktop website will now help your goMobi site reach all your mobile visitors.
Luckily, goMobi offers a simple solution to this problem, by giving you the possibility to enable your desktop website to recognize mobile traffic and seamlessly redirect it to your goMobi site for the optimal mobile user experience.
If your desktop website runs WordPress or Drupal, all you need to do is download and install the goMobi plugins from the Features > Advanced section of your goMobi Setup Assistant to enable this feature.
For websites that use a different CMS or are in plain HTML, the same result can be achieved by adding a few lines of code to your desktop website: although this sounds a bit scary, it is actually not that complicated to do, but it still might be a good idea to ask the person who built your desktop website to help you with the changes.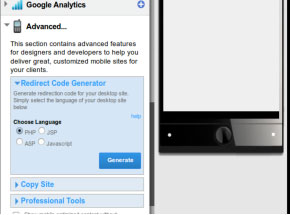 You can download the necessary code by logging on to the Setup Assistant of your goMobi site from inside the Blacknight´s Control Panel, and then going to Features > Advanced > Generate Redirection Code. You can then select the programming language used by your desktop website and download the redirection code in that language, and follow the instructions in the help file to add it to your desktop site.
If your site uses plain HTML probably the easiest solution is to use the Javascript option. All you have to do is copy the code generated by the Setup Assistant and paste it in the source code of your index.html file right before the tag </head>.
Once the code is in place, every time someone tries to access your desktop website from a mobile device they will automagically be presented with your goMobi mobile website instead, ensuring the best possible user experience on the specific device they are using.
3)    Track & promote
Spending some time regularly checking how your goMobi site is used can give you some good indications of what is working and what is not and help you do the right things to drive traffic to it and really make it work for you.
To help you in this task, goMobi comes with a handy "Analytics" function that can be accessed directly from the Setup Assistant and that allows you to keep track of visitors and traffic sources, as well as the features that are most commonly used by your mobile visitors.
You can however supplement the information from goMobi's own Analytics by also using Google Analytics. In particular if you already use Google Analytics on your desktop site, it can be a very useful exercise to compare how much traffic each site is getting and through which channels are visitors finding your sites.
First of all, you will need to setup a new "property" for your goMobi site on Google Analytics. Once you have created the new "property", under Tracking Code > Advanced you should select the option "A site built for a mobile phone" and below that "PHP". At this point, all you have to do is access your goMobi site's Setup Assistant, and under Features > Google Analytics paste the Google Analytics Tracking ID for this property.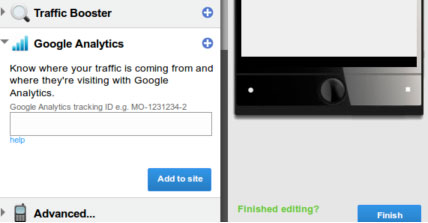 One thing to keep in mind here is that for a mobile site that Tracking ID should start with "MO", so if you are copying it in the format "Tracking ID: UA-12345-2" you need to replace the UA with MO like "MO-12345-2" when adding it to your goMobi site.
After a few days, you will start seeing interesting data popping up on your Google Analytics account for your goMobi site, in particular if you are also using the device detection option to redirect mobile traffic from your desktop site to goMobi.
As soon as your goMobi site starts getting indexed on search engines you will also be able to see what keyword are more often used to find your site on search engines, which can be a useful piece of information when planning your next move.
The next step at this point is to start looking at how to best promote your goMobi website on mobile searches that are related to your industry and area, and really start pulling customers in.
From this perspective, Google Adwords is probably the best tool to start with: not only does it allow you to run effective campaigns also with a limited budget, but Google has also been constantly enhancing Adwords capabilities on mobile and recently even added a dedicated portal
Even if you already use Adwords for your existing desktop site, it makes sense to have a separate campaign specifically targeted at mobile users (according to Google, "Research shows that mobile-only campaigns help drive an 11.5% average increase in mobile clickthrough rates compared to campaigns that combine mobile and desktop ads").
To choose the right keywords to advertise on you can obviously start from your Google Analytics reports, but also get creative with Adwords Keywords Tool which can help you nail the right angle and find the most interesting and popular searches to associate your mobile ads with.
If your marketing budget also allows you to run more traditional print ads, then goMobi's QR-code generator will come very handy.
QR Codes have become extremely popular nowadays and can be seen on billboards and ads everywhere. However, many companies that use QR codes still make a silly – and extremely annoying – mistake by not having a mobile-friendly website associated with their QR codes. Considering the whole point with these codes is to let people with smartphones scan then to get to the advertisers site more easily, putting a desktop website behind a QR code is the equivalent of putting a bucket of water above a slightly opened door, and wait for it to splash on the idiot that gets through the door… Clearly not a very smart business strategy.
The QR Code function in goMobi allows you to generate a standalone QR code, which you can then include in your print material, or even generate a flyer in .pdf that you can just print and distribute right away. Even better, you can generate also QR codes that take visitors directly to a specific subpage of your goMobi site, for example the "Find Us" page or a special "Coupon". In the Analytics tab of the Setup Assistant you can then also track how many people accessed your site through a QR code.
Finally, remember that "practice make perfect" so do keep an eye on your campaigns and statistics regularly (Google Analytics is obviously pretty good at tracking Adwords campaigns and their impact) and make the necessary adjustments so that your goMobi website can keep customers coming through your door.
(Original photo: Group of young people texting on their phones from Bigstock.)