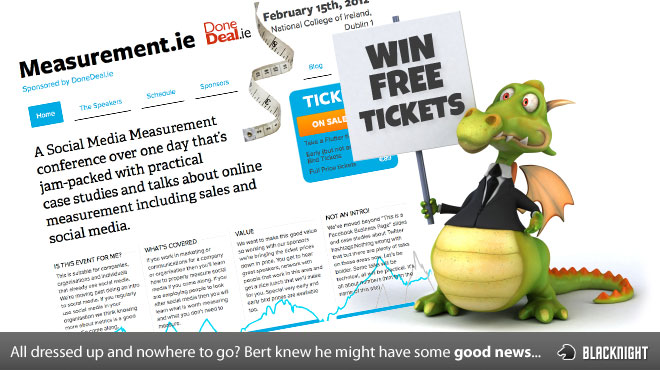 Measurement is being held next month in Dublin and we're really excited about it and Bert got all dressed up!
What is it?
It's a one day conference on social media measurement ie. tracking sales etc., from social media (and other outlets)
Where is it?
National College of Ireland, Dublin 1
When is it?
February 15th 2012. So the day after Valentine's Day.
How much does it cost?
Early Bird €59
Full price tickets €89
Who is speaking?
The full speaker list hasn't been finalised yet, but at the moment there's a nice range of speakers (both Irish and international)
Who is organising it?
Mulley Communications – the people that run events like the Irish Web Awards
Why does Blacknight care?
We love these kind of events, so we're one of the sponsors of the event and are also helping promote it.
So how do you get your hands on a ticket?
Pretty easy. We'll be announcing details of how to get your hands on a ticket via Facebook and Twitter later today. To make it a little bit of fun we'll probably ask you to answer a simple question.
We've got a couple of tickets to give away and once they're gone they're gone – so best of luck 🙂
UPDATE – thanks to everyone who entered.
The two lucky winners were:
David Newell
Mairead Lyons
Related articles