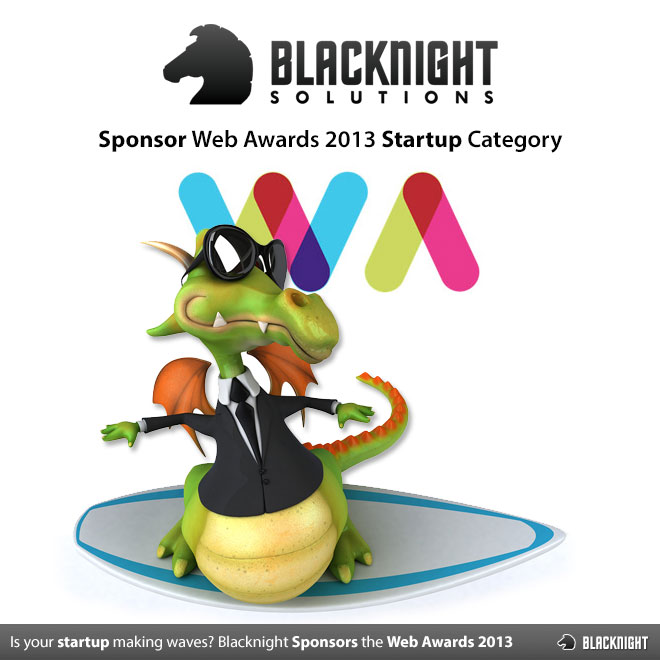 I'm never entirely sure where you're meant to draw the line between being a "startup" and being something else.. When you stop being a "startup" do you become a "grownup" company? How can you tell you're no longer a startup?
In any case a lot of our clients, both in Ireland and overseas, are startups. Some of them are doing really cool, exciting things that grab headlines and make heads turn. Others, however, are facing the same challenges as any startup faces, but might not get the same amount of media attention. If you've started a business, gone out on your own and tried to make it happen you should be proud. It's not easy. And a lot of startups, no matter what sector they're in, go out of business within the first 12 to 18 months.
This year's Web Awards has a new category for startups and we're delighted to be sponsoring it. When Damien told me about the new categories I immediately asked if we could sponsor the startup category and was delighted that we got in before anyone else.
If you are a startup and you think your site is good, then why not nominate yourselves? Full details over on the Web Awards site.
So here's the official release:
Blacknight Sponsor Web Awards 2013 Startup Category
Award nominations are now open

August 30, 2013 – Carlow, Ireland –Leading Irish registrar, Blacknight have announced sponsorship of the 2013 Web Awards for the category of Best Website for a Startup.

The 2013 Web Awards will reward website owners and developers who create compelling web presences that mix good experience with unique and rewarding content. The ceremony will be held November 6, 2013 at the Four Seasons  in Dublin.

The Best Website for a Startup category will be judged on site design, communication of message and whether it entices people to sign up for/buy their products. Award nominations are currently open. Nominations for a website in this category must either be submitted by the owner or have authorisation from the owner to nominate it on their behalf. The nomination period will remain open until September 9, 2013.

"We are long time supporters of the Web Awards and having once been a startup ourselves, the category of Best Website for a Startup is particularly close to our hearts," explains CEO of Blacknight Michele Neylon. "We know how difficult it is to not only get up and running but to do so with a great website and a solid message. We are very pleased to play a role in recognising Ireland's finest startups."

The Web Awards are unique as they honour the best work produced by the Irish Internet community with no strings attached. There is no entry fee, and nominees are chosen by a committee, so anyone can be nominated and win. The ceremony itself is a fun, informal celebration of everything that makes the Irish Internet great.

Web Awards organiser Damien Mulley states: "Our goal for the Web Awards is to celebrate the very best of the Irish Internet community and to publicly acknowledge unique talent and hard work. We aim to foster Irish innovation online and want to encourage everyone out there with a website to create things for the online community."

Mulley continues: "It's great to see Blacknight giving back to the now thriving startup scene in Ireland once again and working hard to get new startups the credit and attention they're due."

All sites that are submitted for a nomination will be scored by designated judges.
Those submitting nominations must also provide a contact email address along with the reason for nomination. The deadline to submit nominations is September 9th.

To learn more about the Web Awards nominations, please visit http://webawards.ie/nominations/

About Blacknight:
Blacknight are an Irish based, ICANN accredited domain registrar and hosting company. Recipients of several awards for their revolutionary use of social media, Blacknight are one of Europe's most cutting edge Internet companies. Blacknight constantly seek to lead the way by introducing innovative solutions for its client base and provide dedicated servers and colocation as well as a comprehensive range of Microsoft Windows and Linux based hosting plans and domain name registration services to business globally.