Last week we wrote about 'trust signals' – and outlined some steps we had taken to enhance the trust in our own online presence, using Digital Certificates and Twitter verification.
But for many businesses there's something even simpler they can do first to improve their online credibility: get a domain name and use it!
New research by the IE Domain Registry (IEDR) reveals that businesses with websites and email on a domain of their own are viewed by Irish consumers as significantly more trustworthy than those who use free email addresses and social media alone.
The research, conducted by Ignite, polled 1,000 Irish consumers, and found:
Almost

two-thirds

of Irish consumers (64%) have little to no trust in businesses that use free email addresses like Gmail and Eircom
In contrast,

77%

said they trust companies that use professional email addresses (e.g. customerservice@localbusiness.ie)
Consumers have

four times more trust

in a company that has a website (65%) versus one that does not (17%)
Companies that do not have a website, but rely solely on social media to connect to their customers, are seen as

less trustworthy

, with 63% of consumers saying they had low trust in them.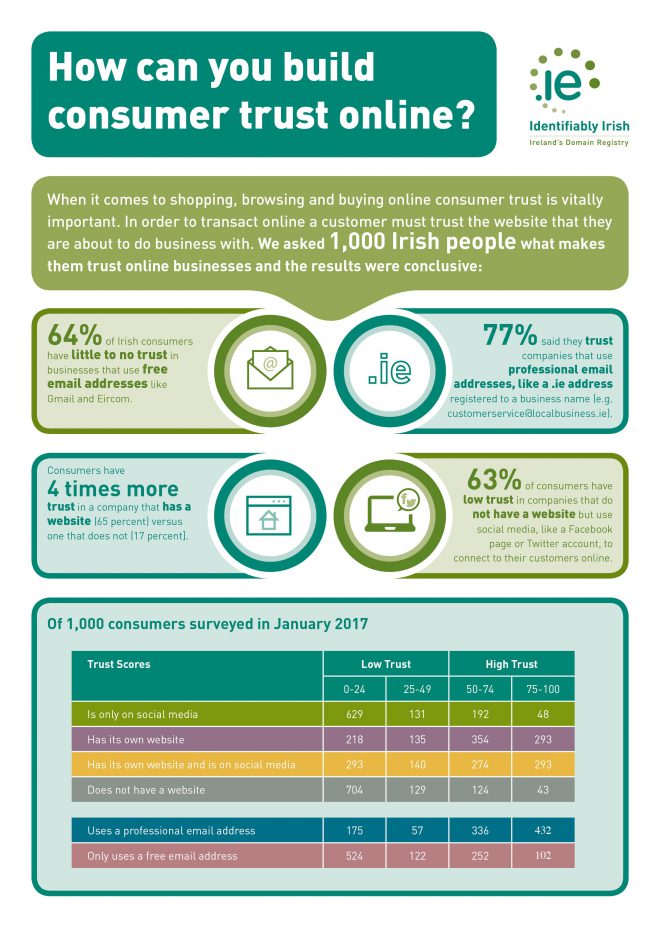 Indicators of Trust and Authenticity
Commenting on the research, David Curtin, Chief Executive of IEDR, said:
"Our research reveals that consumers see professional email addresses and websites as indicators of trust and authenticity. For sole traders and SMEs, this is particularly important. Anecdotal evidence suggests that first-time customers are far more likely to contact the plumber or electrician who has a web presence, rather than the one who just has a phone listing. Investing in a website that lists contact details, services and prices implies openness, accountability and trustworthiness."
However, just because you have a website doesn't mean you shouldn't use social media as well. Experts agree that the best approach is a dual one.
Allister Frost, award-winning former head of digital marketing at Microsoft said that while websites are essential to get the most out of e-commerce, social networks can and should be used in conjunction with them to boost customer engagement.
"Every business owner should begin by creating a website to serve as their permanent home on the internet, under their control forever. And once that is established, many may also benefit from developing an active presence on relevant social networks like Facebook to reach a wider audience and ultimately convert them into happy, paying customers."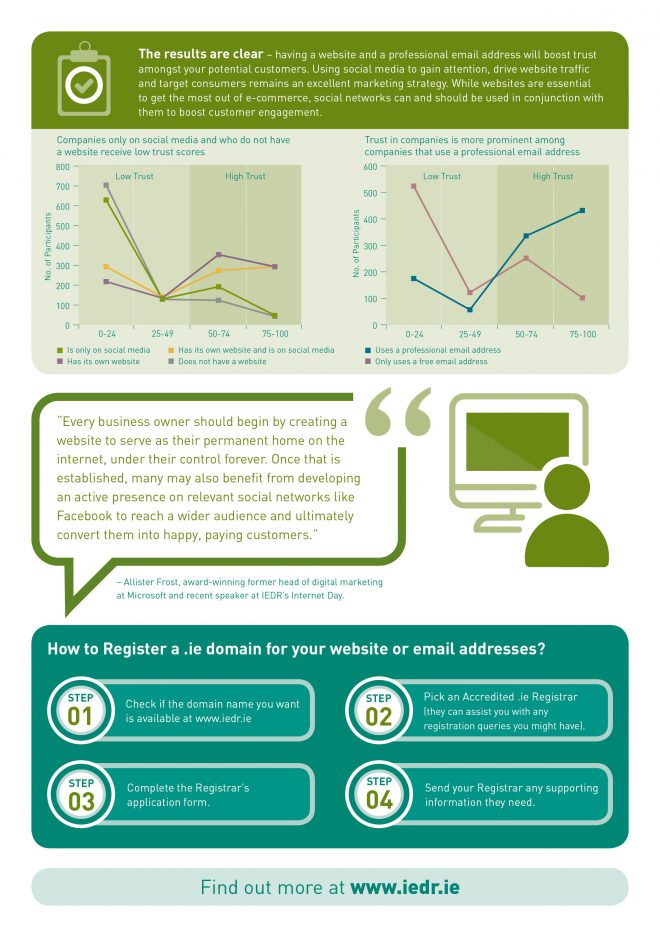 That approach of combining a website with social media, building an audience, and turning them into customers, was also highlighted at a seminar on the Trading Online Voucher Scheme, which we attended in Cork yesterday. We'll have video reports from that event on this site over the next few days. And if you want to find out more about available domain names, including dot-IE, visit our domain search page.