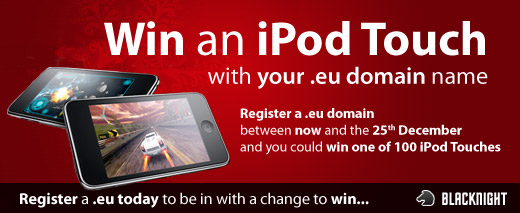 Happy Thanksgiving to those celebrating it and to everyone a happy new competition.
We're pleased to announce that if you register a .eu domain between now and Decemeber 25th with us you could be in with a chance to win one of 100 iPod Touches.
What do you have to do to be in a change win? Simply register a .eu with us and we're automatically enter you into the competition. So what are you waiting for? Head on over to the main site and find your name .eu today.
Winners will be announced on the 2nd, 10th, 18th and 26th of December. ( in Batches of 25 winners at a time ).
The prizes are 8GB ipod Touches personalised with the .eu logo.
So register a .eu today and good luck.
NB: You need an address within the European Union to register a .eu domain name