We've spoken about the launch of IDN domains in the .ie ccTLD in the past. As of earlier today the "sunrise" for trademark holders is now open, so if you have a trademark which includes a fada you can now apply for an exact match domain name.
Conn has been talking about some of the challenges and opportunities with fadas and the Irish language over on our dedicated site. Adding or forgetting a fada isn't just a typo – it can and often does change the meaning of a word completely!
So how can you get your own .ie domain name with a fada?
If you're a trademark holder you can apply right away during the sunrise. The sunrise will run until September 21st.
From 3rd October until 2nd November there will be "landrush" which is aimed at companies and people who already have a .ie domain name that is missing its fada e.g. fogra.ie, will be able to apply for the correct IDN equivalent, during this phase e.g. fógra.ie.
From November 17th it'll be "GA", so anything that anyone wants to register with a fada will be available, as long as they meet the usual IEDR rules and regulations.

As we mentioned before, an IDN domain name is "special", so your browser (and other software) has to do some "magic" behind the scenes to handle the special characters.
If you look at the one example IDN .ie domain currently registered. We see: éire.ie
Behind the scenes the DNS system and your computer will silently convert that "e fada" into something it can interpret, which in this case is xn--ire-9la.ie
You'll be able to see this kind of conversion in the whois output for any .ie domain names that have an IDN:
domain: xn--ire-9la.ie
idn domain: éire.ie
descr: IE Domain Registry Limited
descr: Body Corporate (Ltd,PLC,Company)
descr: Discretionary Name
You can test it in your browser if you want – it currently redirect's to the IEDR's main site.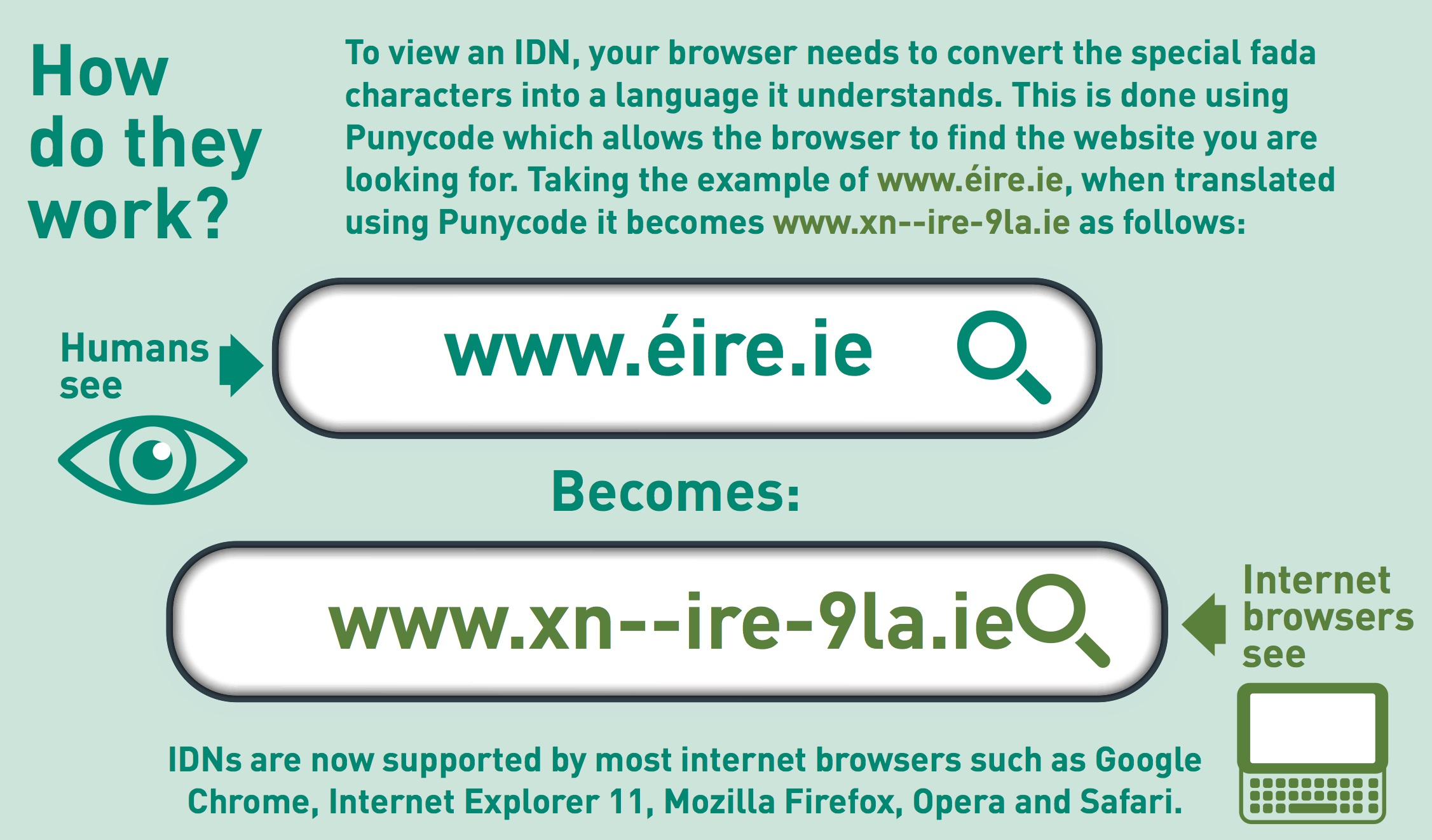 If you have any questions about registering .ie domain names with fadas please let us know.
If you'd like to find out more about internationalised domain names we'd recommend the UASG's site.