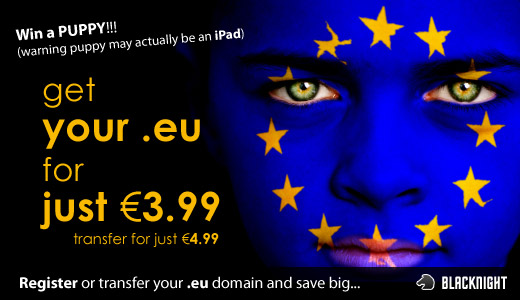 We like bringing special offers and discounts to you, so here's one for anyone who wants to target the European market and register (or transfer) a .eu domain name.
Register a .eu domain name for 1 year at the reduced rate of only €3.99 between now and Christmas
Already got a .eu domain name with another registrar? We got you covered – moving it to us now and you'll save too. You can transfer a .eu from another registrar for a mere €4.99 – which will add an extra year onto the domain's registration period.
Coupon code? None needed. Just place the order via our site and you'll get the discount in the shopping cart.
NB: Discount rate only applies to 1 year new registrations and transfers
The guys over in Eurid, the .eu domain registry, are running a draw between now and Christmas as well. If you register a new .eu domain name you can be in with a chance of winning an iPad 2. Full details here
All prices are ex-VAT unless otherwise stated.