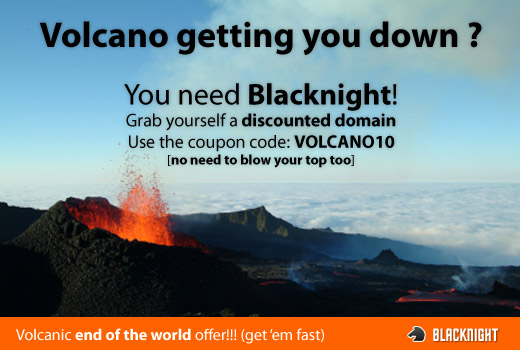 With European airspace being considered too dangerous for commercial flights a lot of people have been having a pretty horrible few days. And it doesn't look like it's going to get better tomorrow either (which could wreak havoc on my plans for the next week .. )
So rather than wallowing in depression we decided to do something – something we know people like. We thought we'd do another silly domain offer!
So here's the details…
From now until Friday 23rd April 2010 we're running the following discount.
When you use the coupon code: VOLCANO10 (cASe SeNSitive) you will get the following prices on domain name registrations:
.mobi 1 year domain registration only 4.99
.be 1 year domain registration 3.99
.info 1 year domain registration 2.99
.biz 1 / 2 year registration 3.99 / year
.org domain registration 4.99 / year (up to 10 year registration)
.net domain registration 4.99 / year (up to 10 year registration)

And don't forget – we're still offering .me domains for only 4.99 / year , our .com promo of only 4.99 year is still ongoing – and you can even get a .ie domain for 1 year at an incredible 14.99
All prices ex-VAT
As usual – no coupon code, no discount.
Blacknight is Ireland's only ICANN accredited registrar!