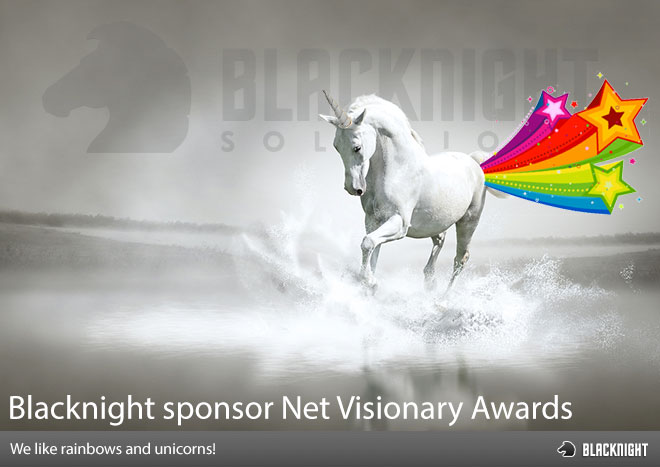 We've been involved in the Irish Internet Association for years. If you're involved in "Internet" related business in Ireland then you should be a member. It doesn't cost much and they've got a "voice" which the sector badly needs.
So what's going on?
Every year the IIA runs an awards ceremony to celebrate the "creme" of the Irish web scene – the Net Visionary Awards.
We've won several of the awards over the years – there's a nice little collection of the awards in my office! And this year we're sponsoring the event, specifically the web design award, which they're calling "Most 'Joyous to Look at and Splendid to Use' Web Design". I think that's a bit of a mouthful, but ok .. We like the Net Visionary Awards as they're NOT "pay to play". Want to nominate someone? Just fill out the form. No fees, no bull.
Here's our release:

Blacknight to Sponsor 2013 Net Visionary Awards
Leading Irish Internet Company will determine the winner of the "Most joyous" Web Design category.

Blacknight proudly announce sponsorship of the 2013 Net Visionary Award's "Most 'Joyous to Look at and Splendid to Use' Web Design" category.

This Web Design Award will honour the best example of design aesthetic married with user experience and functionality. The award will go to the agency or freelance designer whose client website illustrates excellence in graphic design, navigability, accessibility and usability.

Blacknight (http://www.blacknight.com) , Ireland's number one domain registrar and hosting company has been a staple at Irish tech awards ceremonies for several years. Whether presenting an award to an innovative company, or taking one home for their outstanding use of social media, Blacknight are strong believers in the importance of honouring excellent work online.

Winner of multiple Net Visionary Awards, Michele Neylon, CEO of Blacknight states: "Blacknight is deeply committed to honouring the great work being done within the Irish Internet community. We are very passionate about good design and are particularly pleased to be sponsoring the award for "Most 'Joyous to Look at and Splendid to Use' Web Design". There is an wealth of great design work being done in Ireland and we look forward to reviewing this year's Net Visionary nominees."

The Net Visionary Awards, present prizes in 15 categories. Ten categories will be decided by the private votes of a full judging panel and the remaining five categories will be awarded via public vote. The five categories that face the public vote will be marked 'public vote' and voting will open after the shortlist is announced.

"This year's Net Visionary Awards are reflective of the constant change within the tech industry in Ireland," explains Joan Mulvihill, IIA CEO. "We consistently add new award categories each year showcase emerging technologies within business and the exceptional skills and talent of their key people. From the first hour of opening the awards nomination last week, we've been receiving nominations across all of the categories.  It looks like 2013 will be the most competitive and compelling showdown of industry talent yet."

Nominations for the Net Visionary Awards are currently open. To make a nomination, visit the Net Visionary Awards site and fill out the online form. Nominations close on July 5, 2013.

The 2013 Net Visionary Awards will be held September 27, 2013 at The Smock Alley Banquet Hall. Tickets are €220 for non-members, and €180 for members.

For more information on the 2013 Net Visionary Awards and "Most 'joyous to look at and splendid to use' Web Design" category please visit http://www.netvisionary.ie/

About Blacknight:
Blacknight are an Irish based, ICANN accredited domain registrar and hosting company. Recipients of several awards for their revolutionary use of social media, Blacknight are one of Europe's most cutting edge Internet companies. Blacknight constantly seek to lead the way by introducing innovative solutions for its client base and provide dedicated servers and colocation as well as a comprehensive range of Microsoft Windows and Linux based hosting plans and domain name registration services to business globally.
Related articles