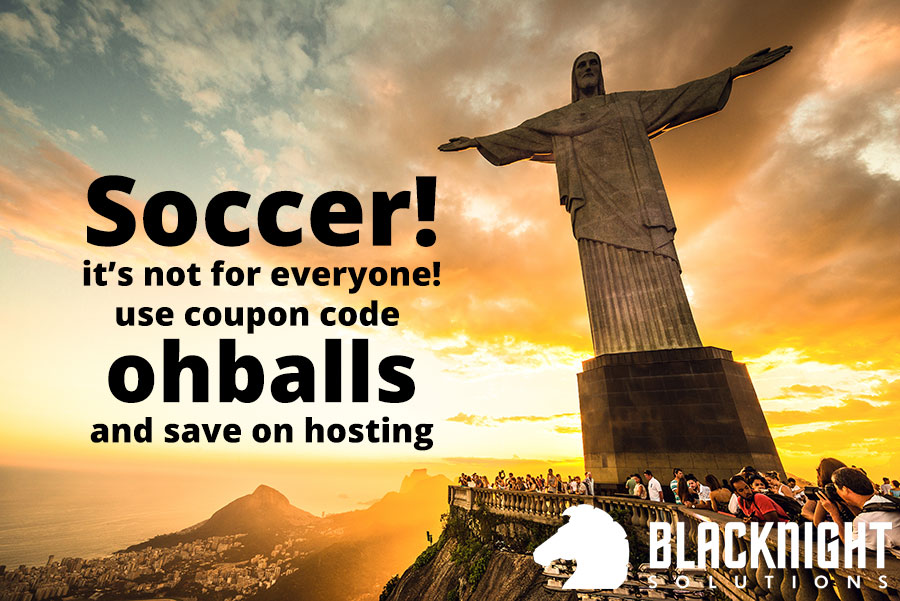 The world cup is now well underway but it's just not for everyone. If you find yourself with some spare time while everyone goes football crazy, why not take advantage of our great special offer on hosting.
Use the coupon code: ohballs at checkout and you can save 20% on your yearly hosting bill. The offer is valid on purchases of 12 month subscriptions to our shared and cloud hosting plans.
Now could be the perfect time to get that pet project up and running.

You may be asking however just what you can do with a hosting account from Blacknight?
Did you know you can host up to 30 websites on our Minimus plan?
You get a massive 10GBs of disk space. That's enough to hold to hold 2000+ full size photos taken with my digital camera.
You get 200GB of bandwidth. That's 40,000 views of those full size photos. Both more than enough to handle any small website needs.
You also get the Application Vault installer which let you quickly and easily install a wide range of applications such as WordPress in seconds.
So what are you waiting for, get signed up now for a hosting plan.
Looking for a domain name to go with that plan? Why not check out domainoffers.me for all our latest offers.