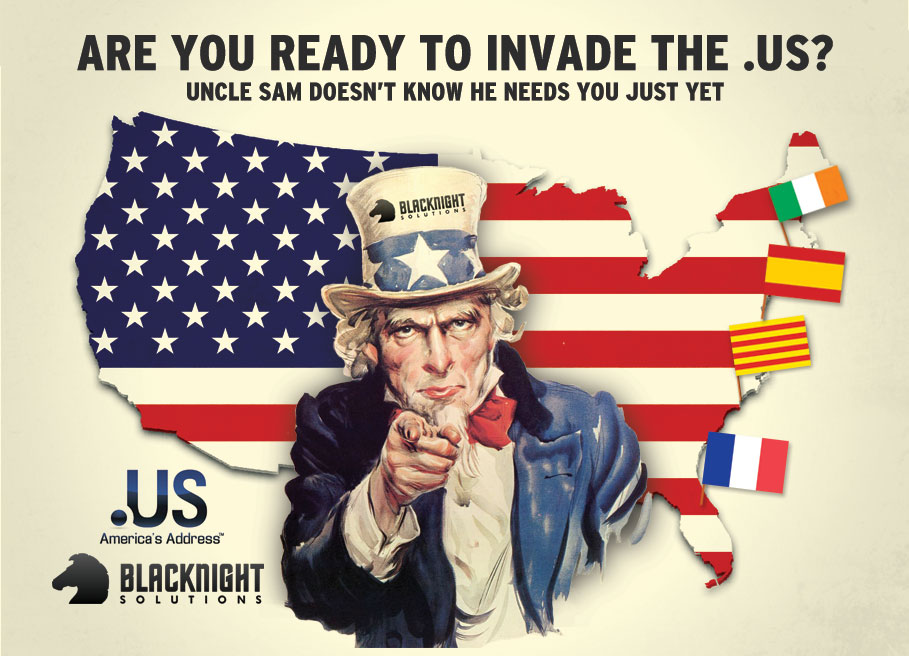 We're announcing a nice discount deal on .us domain names.
If you register a .us domain name and get an annual website hosting plan at the same time you'll get the .us domain name for only EUR5.99 (ex-VAT) for the first year.
You can read a bit more about .us domain names and why we think they're a good idea in my previous post.
And since we like putting out press releases here's the one we're sending out today:

Blacknight Reaches Across the Atlantic with .US domains
Leading Irish Registrar offers deep discount on .US domains.

March 20, 2013 – Carlow, Ireland – Leading Irish domain registrar and hosting company gets their America on with  .US domains.

With the upcoming changes to the Internet Domain space, Blacknight (http://www.blacknight.com) want to remind customers that while the Internet is a global entity, it can also be used to localise business and services.

Unlike the European market, in the United States, registrants think first of .COM domains, and not .US. However, with the dawn of New gTLDs, domain registrants everywhere will begin to use the name space quite differently.

Michele Neylon of Blacknight explains: "The Internet is global, but it's also local. People know and trust the concept of "local". If you want to find the UK branch of Sony, for example, you'd expect to find it under sony.co.uk. Based in Ireland, you'd want the content from sony.ie and if you're in the US then, yes, you'd want to check out sony.us."

To get customers started, Blacknight is offering .US domains for €5.99 for the 1st year when you buy an annual hosting plan (http://www.blacknight.com/compare.html) . Blacknight offer a range of hosting plans including "No Fluff" Cloud Hosting as well as packages that are designed to fit a range of needs.

Neylon continues: "If you're a business that sells into the US (and isn't doing anything silly like breaking the law) then you can qualify to register a .us domain name."

Blacknight would like customers to keep in mind that the .US domain registry has some specific "nexus requirements". However they're not subjective and if you do business with the US you can qualify. For instance, a foreign entity or organisation that has a bona fide presence in the United States of America or any of its possessions or territories may apply.

.US applicant must also "regularly engage in lawful activities (sales of goods or services or other business, commercial or non-commercial including not-for-profit activities) in the United States; or maintain an office or other property within the United States."

Get your .US domains and tailored hosting packages today by visiting http://www.blacknight.com/register-us-domains.html

For more information on Blacknight and .US domains please visit https://blacknight.blog/targetting-the-us-market-maybe-a-us-domain-makes-sense.html

About Blacknight:
Blacknight are an Irish based, ICANN accredited domain registrar and hosting company. Recipients of several awards for their revolutionary use of social media, Blacknight are one of Europe's most cutting edge Internet companies. Blacknight constantly seek to lead the way by introducing innovative solutions for its client base and provide dedicated servers and colocation as well as a comprehensive range of Microsoft Windows and Linux based hosting plans and domain name registration services to business globally.