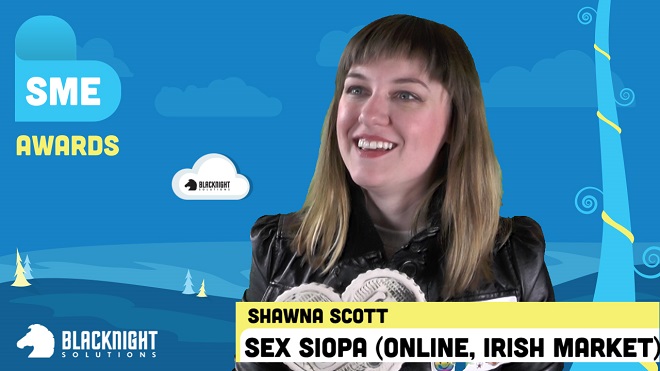 The Blacknight SME Awards was a lot of fun last weekend. We decided to go full-on with the videos this year and took over a corner with a temporary studio. This week we're publishing the results of that: video reactions from the winners in each category, captured fresh as they came off stage.
You can tell from the soundtrack that there's a lot of bustle and excitement in th background as over 80 SMEs vied for awards in 15 categories, but thanks to the magic of green-screen technology, we put the interviewees in a fantasy landscape of beanstalks and fluffy clouds! Thanks to Stephen Marron who designed the backdrop and helped with the equipment on the day, as well as running one of the cameras.
Shawna from SexSiopa.ie won the award for 'Retail – Online', Irish Market for the second year running, sponsored by the IE Domain Registry. It's been an exciting year of growth for her business, she said.
Dingle Crystal won the 'Retail – Online, Export' award.
Ardkeen Quality Food Store won the 'Retail – Mostly Offline' category. Colin Jephson said that recognition can help keep SMEs going
We've got more on the way in the next few days.