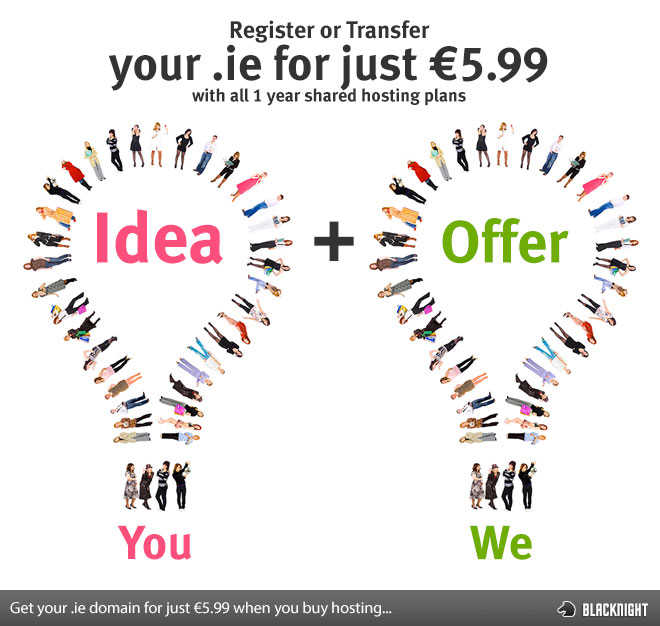 We haven't done any special offers or discounts on .ie so we're really excited to unveil this one. The press release below goes into it a bit more, but here are the basics:
If you buy an annual hosting plan (Minimus / Medius or Maximus) you can get a .ie domain name registration (or transfer) for €5.99 for 1 year.
That's it.
No coupon codes. Nothing else. Just buy an annual hosting package at the same time as you register or transfer a .ie domain name and you'll save a bundle of cash.
August 30, 2012 – Carlow, Ireland – Blacknight are reaffirming their commitment to Irish domains with deep discounts on .IE registrations and transfers.
The leading Irish domain registrar and hosting company are offering  .IE domains for €5.99 with the purchase of a Blacknight hosting package.
Customers who order a Blacknight Maximus hosting plan  http://www.blacknight.com/maximus-hosting.html with 600GB of monthly transfer and 30GB of diskspace (either Linux or Windows Server 2008) for 1 year will be eligible to transfer or register a new .IE domain at the discounted rate.
This offer also applies to the purchase of the Minimus annual hosting plan http://www.blacknight.com/minimus-hosting.html (Linux or Windows Server 2008) as well as the Medius hosting plan http://www.blacknight.com/medius-hosting.html (Linux or Windows Server 2008)
Michele Neylon of Blacknight states: "We love giving discounts and were looking for a way to celebrate the announcement of our new, green data centre. We couldn't think of a more perfect way to celebrate the ground breaking on a local Irish data centre than by promoting .IE domains."
.IE has a market share of 42% in Ireland and .IE domains have become a strong staple of Irish Internet culture. As the leading registrar for .IE domains, Blacknight intend to continue to strengthen the relationship between the domain and its Irish registrants.
Neylon continues: "We are a proud, Irish business and have made it our mission to help other Irish businesses establish an online identity. Whether it is a website, mobile site or online store; it is our goal to help Irish businesses expand their presence. We are heavily committed to investing in the Irish economy and want to provide others with the tools to do the same."
To take advantage of these promotions, customers must order 1 year of hosting and the domain name simultaneously as these offers only apply to domain name registrations and transfers when ordered at the same time as an annual hosting plan.
(Original Image: idea from Big Stock Photo)
Related articles