On Thursday next, 8 December, Blacknight and Microsoft Ireland will co-host a free webinar titled 'Office 365 and Security in the Cloud'. I'll be co-presenting it, together with Jonathan Eustace, SMB Cloud Lead with Microsoft Ireland, and this morning we recorded a podcast together in preparation for the event.
Click below to play the podcast, or download it here: 15:16; 9MB; MP3.
"Work is the thing that you do – not the place that you go", explains Jonathan, describing the philosophy behind the evolution of Microsoft's Office suite into Office 365. Productivity is about getting the job done, not sitting at desks, and the modern workplace embraces mobile technology and flexibility. 50% of email is now consumed using a mobile device. In fact, email itself isn't always the best way to communicate, and Microsoft's acquisition of Skype has seen it become an integral part of office communication, with presence detection, instant messaging and full integration with Outlook meetings and calendar.
We talked about co-authoring, and the ability to collaborate with a team in real time on a single version of a document. Version control is built in, and there's a complete audit trail of changes.
The audit trail is an important security feature, and so is encryption. Policies can be set for an organisation, for example prompting users who may be about to share sensitive data outside the organisation.
Microsoft's policy is to provide a 'trusted cloud'. Office 365 is certified to ISO 270001 (as is Blacknight), and can help enable compliance with a wide range of regulations and privacy mandates.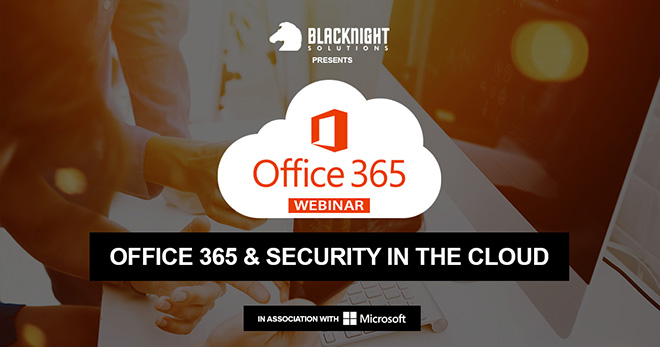 Jonathan points to the fact that Office 365 is undergoing continuous investment and improvement, with over 350 feature updates in the past year.
"When you make an investment in the Office 365 platform, it's continually innovating, continually evolving, and you get access to those features as soon as they're released."
The Blacknight/Microsoft Webinar on 'Office 365 and Security in the Cloud' is free of charge and open to all: simply visit the registration page to book your place with us next Thursday, 8 December, at 12pm.
Subscribe for free to receive The Blacknight Podcast, via Apple Podcasts or RSS.