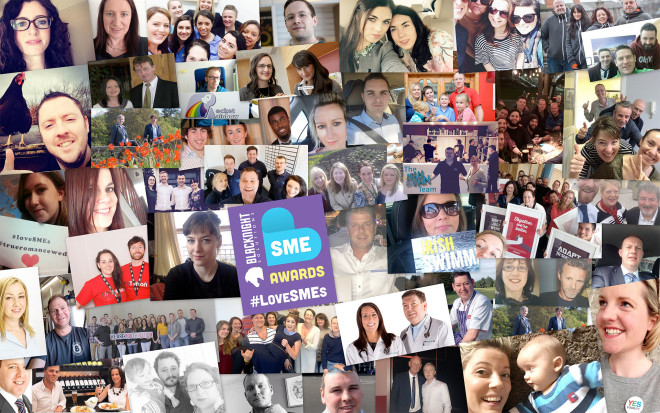 Over 80 companies have made it to the finals of the second annual Blacknight SME Awards – and we can't wait to meet them all in Cork on April 16!
We're working with Mulley Communications and our MC Rick O'Shea to put the final touches to a special party: one that celebrates Irish SMEs in all their variety, in the way they look after their customers and staff, and the deep roots they put down in the local communities.
That last part is what really sets SMEs apart from multinationals whose loyalty can be bought for a tax rate and a corporate inversion. SMEs are 'sticky'!
For us, based in Carlow, our community roots are a very important part of our corporate identity. And while we serve customers in over 130 countries around the globe – we like to think we do so with an Irish slant.
We're proud of that. We're proud of Irish SMEs who shoulder the burden of job creation – and we think they should reap the rewards.
So we're throwing a party in the Radisson Blu in Little Island on April 16. Some tickets are still available at the special early rate of €30 – let's celebrate!
Here's the press release in full we've put out this morning:

Blacknight SME Awards Celebrate the 'Stickiness' of Irish SMEs
Corporate inversions and international tax avoidance may make the headlines, but here's to the local heroes whose ties run deep

07 APRIL 2016, CARLOW, IRELAND

SUMMARY

Ordinary SMEs are the lifeblood of economies the world over, but too often the headlines are focused on multinationals. The Blacknight SME Awards next weekend will celebrate the local heroes of Irish business.
The finalists have been announced for the Blacknight SME Awards which will be held on April 16 at the Radisson Blu Hotel in Cork.

Over 80 companies are represented, ranging from garage startups to well established firms, competing in 15 different categories.

Those categories highlight the diversity of Irish SMEs: from old family businesses, to those run by under-30s; both online and 'bricks & mortar'; from food and drink to digital; with categories for community and environmentally minded businesses.

What unites them all is the fact that they play a critical role in the health of national economies, accounting for over 99% of all businesses according to CSO and EU statistics. The OECD reports that two thirds of all jobs in its member countries are provided by SMEs.

"SMEs are the lifeblood of the economy", says Damien Mulley, organiser of the Blacknight SME Awards. "They employ way more than the Googles and the Facebooks, don't get the press and pay a lot more tax."

More significantly, he says SMEs are 'sticky'. Their ties run deep in the communities where they live and work. While corporate inversions and international tax avoidance make the headlines, there's a lot to be said for a company that knows its place.

That's a fact which is not lost on Michele Neylon, CEO of Blacknight, the Carlow-based internet services company which is the headline sponsor of the awards for the second year running.

"You take a small business", says Neylon. "They're not going to pack up their bags in the morning and move. They're going to stay around, because they have ties to the local community. But a big faceless multinational corporation doesn't give a damn about Ireland".

As an Irish entrepreneur, he has very definite ideas about the appropriate way to celebrate the SME community: starting with not charging people to enter the competition in the first place.

"The beautiful thing about the SME Awards is that they're free to enter, so there's none of this kind of rubbish where you have to pay to play. If you're a small business starting out, every cent counts; every euro counts. You don't want to be spending money entering awards which you may or may not get. What's the actual return on investment on that?"

Hosted by RTÉ presenter Rick O'Shea, the Blacknight SME Awards returns to the Radisson Blu Hotel in Cork on April 16. Tickets are just €30 on sale from smeawards.ie and the dress code is informal for an event billed as an opportunity for SMEs to let their hair down and enjoy a well-earned pat on the back!
Related articles