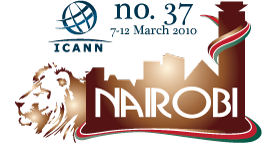 Earlier today (around 6am Irish time) the 37th public ICANN meeting opened officially in Nairobi, Kenya.
I stress the "official", as the meeting's activities had already started on Saturday with a large number of meetings taking place over the weekend.
The official opening ceremony in Kenya included the usual welcomes from the local hosts and dignataries followed by an address by ICANN's CEO, Rod Beckstrom.
What made this opening a little different is that Beckstrom did not just open the event. No. ICANN's new CEO made certain that his opening words would resonate and called out the African Telcos on their pricing:
As the vice president mentioned, there's now a fiber connection to
Mombasa, which actually goes all the way to this conference center.
We have some of the best, if not the best fiberoptic connectivity
that ICANN has ever had in the world is right here, right now in
Nairobi. Thanks for this important work. The government and the
private sector together working together has done.

That service is so good, do you know what it cost to get high-speed
broadband access at your home here in Kenya? $13 a month.

$13 a month!

That's an excellent price. But I'd say it's also too high, and we
hope it comes down even lower all over Africa where we have one
billion people, many of whom want access to the Internet. And no one
needs to take my word for it because a survey of 1700 Kenyans was
just completed three days ago, and published by TNS. And the
research said that 77% of Kenyans want better Internet access, and
63% of Kenyans value better Internet access more than good telephone
service. More than good telephone service. Can you imagine what
that means?
Maria Farrell has an interesting post from Nairobi covering the opening speech, which is worth reading. You can see the full opening speech below:
This week's meeting is going to attract a lot of media attention and it will be interesting to see how things pan out as the week progresses.
Unfortunately I am not attending in person this week, though I will be following the meeting remotely, which means a lot of early mornings this week! (Nairobi is 3 hours ahead of Ireland)
Fortunately there are plenty of tools available for people to follow the meeting from afar, with both audio and video feeds for most of the meeting being made available.