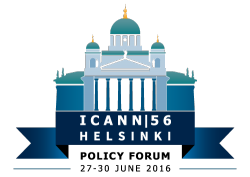 Last week I was in Helsinki for the ICANN meeting.
ICANN 56 was the first meeting organised using ICANN's new meeting format. So instead of it being 6 days + of meetings and sessions, the "policy forum" essentially ran from Sunday afternoon until Thursday afternoon, with the bulk of activity focussed between Monday and Thursday.
ICANN 56 was also my last meeting as Chair of the Registrar Stakeholder Group.
ICANN meetings are always busy. This one wasn't any different, though the new meeting schedule meant that there was a slightly different focus and probably less conflicts on the agenda.
Key areas of focus this time round for me were:
Whois – no surprise there. There's a rather big and contentious working group engaged in this at the moment.
Proxy / Privacy Accreditation – While this was "done" months ago, it's still in limbo due to the GAC (governments) putting pressure on the ICANN board to not approve the working group's recommendations until the GAC was 100% appeased (and I am paraphrasing)
IP / copyright interests – Not a new topic unfortunately, but one that keeps raising its head.
IANA transition – it's close to completion, but there's still quite a bit to do. One of the big milestones, however, was completed this week with the signing of the SLAs by the numbering community.
ICANN's Budget and reserves – ICANN's overall expenditure keeps growing. While getting the IANA transition done is important, how ICANN funds it is cause for some concern. The reserves have been dipped into quite a bit and there doesn't seem to be a concrete plan on how they'll get replenished. As a registrar this is concerning, as ICANN may end up coming to us looking for the shortfall which would impact our costs. ICANN has also been expanding both its overall headcount and number of offices around the world. While some of this expansion probably makes sense, it hasn't done a particularly good job of tracking the metrics around the expenditure.
The Helsinki meeting was also a good opportunity to meet with various vendors we deal with, as well as to meet new ones.
So how big was the meeting? With its focus on policy work and without an opening ceremony and some of the other "extras" normally found at ICANN public meetings, the overall attendance was lower. However there were still over 1400 people in attendance:
By comparison there were nearly 2300 attendees at the meeting earlier this year in Morocco. Hopefully ICANN's meeting team will release more data like they did last time – it was truly fascinating.
The next ICANN public meeting is scheduled to take place in Hyderabad, India in November.