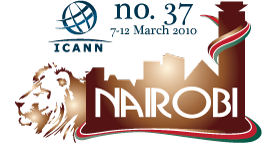 As the ICANN meeting in Nairobi draws to a close several big questions still hang in the air.
While many ICANN insiders may be wondering about new TLDs the world's media is firmly focussed on one topic an one topic only – .xxx.
Tomorrow morning the ICANN board will officially decide what will happen with .xxx.
Will it move forward?
Will they find some way to not take a decision?
I for one will be getting up early tomorrow morning to find out!
In other news, the hosts of the next ICANN meeting, which is scheduled for Brussels, today presented a short video to those attending the current meeting.