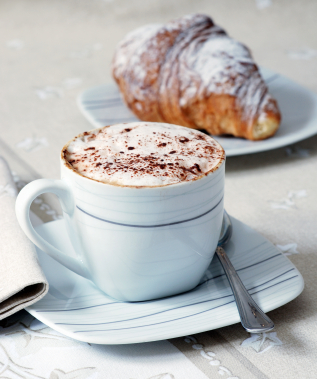 As you know, if you've been reading our ramblings for a while, we really like our coffee.
There's nothing quite nicer in the morning than a nice fresh coffee and croissant to start your day.
While you might be able to make your own coffee, gettting a drinkable capuccino requires skills and equipment that you simply won't find at home – and I honestly can't see many people preparing fresh croissants for breakfast every day.
So what do you do?
You grab a coffee and croissant in a cafe, bar, corner shop or garage.
Maybe you'll take the few precious minutes to enjoy sipping it and waiting for that first cafeine hit to work its magic on your nervous system, or maybe you'll end up grabbing breakfast "on the hoof".
Would you honestly question the value of your coffee and croissant in the morning?
Would you start a big debate with someone over it?
Would you rudely berate the staff in a cafe serving you coffee every day?
Probably not.
Based on some totally unscientific research earlier today we worked out that the average price paid for a coffee in Dublin was about 3 euro. This being an average price for "a coffee" (You'd normally pay slightly more for a capuccino). It turns out that our "research" was quite accurate.
So if you add a croissant to your order the price will easily rise by another euro.
So your daily coffee and croissant could easily cost you 4 euro.
Why do I care?
Are Blacknight getting into the cafe business? While I may have worked in food and beverage in the past I don't have any real interest in going back to it at the moment.
However our entry level hosting plan which I spoke about a few weeks ago is a mere 49.95 EUR ex-VAT for a year.
That's just over 4 Euro a month, which is the price of a coffee plus croissant.
Even if you include VAT (sales tax) the total cost of a Minimus hosting plan for 1 year is just over 60 euro.
Add a domain into the mix (let's say a .com at our normal rate), then you're looking at an annual bill of less than 70 euro all in.
So I'm more than a little confused by that claim of us being overpriced
Why?
I'll tell you why.
Have a look at what you can get with the Minimus hosting plan
If you have a minute or two to spare, why not read my post about the Minimus plan from a few weeks ago.
Now those posts and the page on our site talk about features. You get lots of one thing, oodles of another etc., etc., but is that why we stand over our prices?
Did we increase the cost of our entry level hosting plan?
Yes. But it shouldn't really matter when you look at what we've given you in return. I'd go so far as to say that we've actually slashed our prices.
Not convinced?
Let's put things into perspective for a moment.
If you ignore the huge disk space, the powerful control panel and all those wonderful features we keep talking about, what are you left with?
You're left with a reliable service to host your business email and website for a year.
If you wanted to run an advert in a small local paper which is read by your next door neighbour and a few of your friends, how much would you pay out?
What if you wanted to run an advert in a national newspaper or magazine?
Do you honestly think that you'd get very far with what we charge you for a full year's worth of online presence?
I somehow doubt it.
And what about technical support?
Yes. I'll be the first to admit that our new hosting platform is a hell of a lot more intuitive and easier to use than its predecessor, so maybe you won't need our technical support team's help as much as before.
Being able to manage everything from the one place is pretty cool, even if I do say so myself.
But what about those times when you run into a problem?
What about those odd issues or queries that crop up?
Our technical support team will always do their very best to assist our clients make the most of their hosting experience with us.
Don't believe me?
Why would you?
But what about what our other clients have been saying?
Take a minute or two to read some of their comments
My personal favourite has to be:
"The only bad thing about Blacknight is they make the experience of dealing with other companies' support comparatively worse" (admittedly the original version contained more colourful language, but you get the drift!)
So if you want cheap and nasty hosting, please feel free to visit our competitors, but if you want a cost effective home for your website, then you know where to find us.