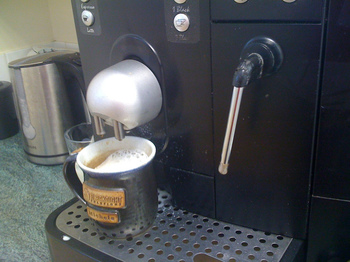 Since I'm a bit of a coffee addict (as are a lot of our staff) I decided the time had come to upgrade our office coffee machine.
If you recall, we got ourselves quite a nice machine nearly two years ago.
Unfortunately that machine, while excellent in its own right, simply could not cope with our expanded numbers (our staff numbers have gone up quite a bit since we got it).
So I started shopping around for a new machine. Eventually we settled on the Jura Impressa X7. Like the other machine it's "bean to cup". The difference is that the Jura is a lot bigger and can be plumbed in. It also handles capuccino and latte directly ie. no more messing about with steamer nozzles etc.,
The only downside to the new machine is that our office milk consumption has sky rocketed!
Note the tube for the milk on the left of the machine (milk cooler has been ordered):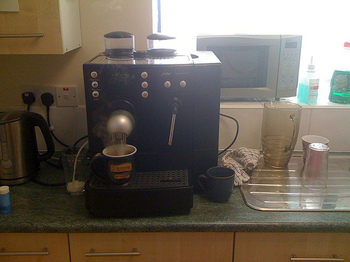 The coffee we're using at the moment came from Discount Coffee, who offer a good range of coffees at reasonable prices. As you can see in the photo above, the Jura has not one, but two spaces for beans, which means you don't have to refill it as often and you could even try mixing types of coffee if you were adventurous.
So what about mugs?
A few months ago we ordered a batch of mugs from Owen in Mug Revolution. We got mugs for all our own staff and for some clients / friends / partners etc.,
Like so many of these "silly" ideas the feedback has blown me away.
Yes, they are really nice mugs, but I wasn't honestly expecting so many people to be so passionate about them.
One person who got one sent me an email thanking us and, to be perfectly honest, it made it all worthwhile:
Thank You for the great coffee mug!! It is twice the size of any of our mugs at home, which saves me the back and forth trip when I'm comfortable on the couch watching football. (Only a company run by guys could understand that benefit)
We have a couple of mugs left that we will probably give away in a competition at some point in the next couple of weeks, but if you want to get your own mug you don't need to wait. Owen, who is a really cool guy, is now offering the Blacknight mug for sale on his site!
If you'd like to find out more about how the mugs are made, then have a look at some of Owen's videos on Youtube. Owen makes really nice mugs, but what's totally captivating from my point of view is his passion for his craft. If you exchange emails with him you'll be impressed with his attitude, but it's only when you actually see him talking about his work that you can get a real feel for it, so I'd recommend you take a minute or two to watch his videos. (And yes – I am a big fan of his work!)