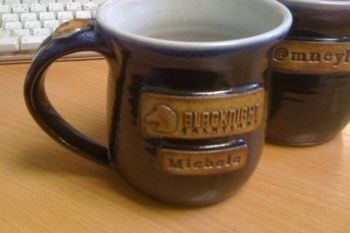 We've spoken about the Blacknight mugs a few times in the past and we've had a lot of people asking us about getting their hands on one.
So how can we make everyone happy?
We can't.
But what we have come up with is a silly idea to give away one of the mugs and we'll give away a couple of the Blacknight tshirts as runner up prizes.
So what do you have to do?
Simple really. Write a blog post explaining why we should give you a Blacknight mug
If you don't have a blog or for some reason you feel that your blog's readers won't "get" why you're writing about mugs, then simply post a comment here.
We'll run this until March 24th 2010.
Any questions?
Post a comment and let us know