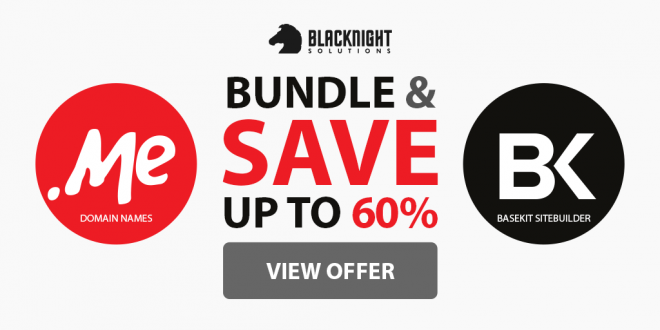 We're excited to be an exhibitor and speaker at BLOGGERCONF once again this year. To celebrate we've teamed up with BaseKit Sitebuilder and the .ME domain to announce a special deal on a year's subscription for the perfect blogger's starter kit.
BaseKit Sitebuilder is our entry level, DIY website building tool. It's designed for those who want to get a site up quickly and easily – translating ideas from their heads to the screen, without having to brief a developer or think about technology.
BaseKit Sitebuilder allows you to mould and shape, drag and drop, style and colour, and try out hundreds of templates without needing to know about code. It's perfect for the individual, the blogger, the startup, or the sole trader.
That makes it a perfect companion for the .ME domain. And as Irish bloggers prepare to gather at the Mansion House on May 20, we've put together the perfect package for a new blog with its own .ME domain.
From now until May 31, you can get a new ME domain, together with a 12 month BaseKit siteBuilder subscription, for just €44 ex VAT. That's up to 60% off!
Just fill in the form online, and our sales team will contact you to set you up with the discount rate!
Competition Time!
We're also giving away one bundled subscription for free in a social media competition. We'll announce the winner on stage at BLOGGERCONF on 20 May – and you can tweet to enter up to once a day until then! Click below to get started!
May 20 will be the only BLOGGERCONF event in Ireland this year, in the new, larger venue of Dublin's Mansion House. Blacknight will give a talk titled: 'Blog Security: How to Protect your Brand against Catastrophe'. Want to keep your blog, safe secure and online? We'll show you how!