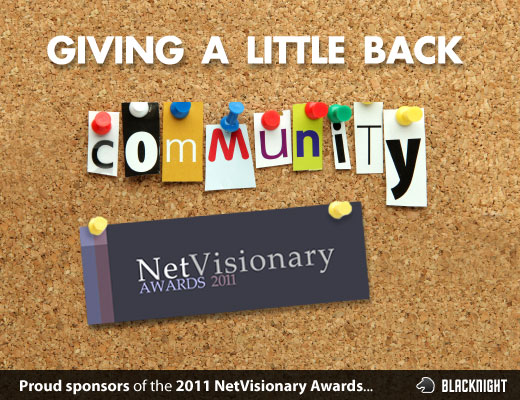 We've been involved with the Irish Internet Association and their annual awards ceremony, the Net Visionary Awards, for several years. We've sponsored it, been nominated, been shortlisted and even won a few awards over the past few years. This year we're sponsoring a category that we feel particularly strongly about – "Best Use of Social Media" which we won last year.
Here's the official release:
Multiple Net Visionary Award winners Blacknight Solutions have announced their sponsorship of this year's Awards in the "Best Use of Social Media" category.
The "Best Use of Social Media" category recognises the person or company who has demonstrably displayed best practice use of social media for driving business growth through the use of Social Commerce, Social media for customer engagement, customer
support or other social media integration.
Blacknight (http://www.blacknight.com) were last year's winner of the "Best Use of Social Media" category and have won Net Visionary Awards (http://www.netvisionary.ie/) for several years running.
Michele Neylon of Blacknight states: "We feel that social media is the most important tool businesses have in connecting with their clients and that using it well can become an art form. We are proud to continue to be involved with the Net Visionary Awards and are especially pleased to sponsor a category about which we feel so strongly. We believe in honouring Irish businesses who set the example for what can be achieved on-line."
The IIA's (Irish Internet Association)Net Visionary Awards are celebrating their 13th year and are the only online awards run and voted on by the Internet industry in Ireland.
The Net Visionary Awards are comprised of 15 categories, which have been carefully selected and intended to reflect the prolific business use of the Internet in Ireland, enabling businesses to grow despite these tough times.
Joan Mulvihill, IIA CEO states: "it's a great sign of the continued growth within the sector and the engagement of the community that we have received unprecedented numbers of category nominations this year. Blacknight are an integral part of the Irish internet industry, they contribute greatly to the online ecosystem and so it wouldn't be an awards night without them!"
The IIA Net Visionary Awards 2011 will be held on Friday 30th September in the National Gallery Ireland in Dublin City Centre.
The closing date for Net Visionary Award nominations in all categories is mid-day Friday July 29, 2011.