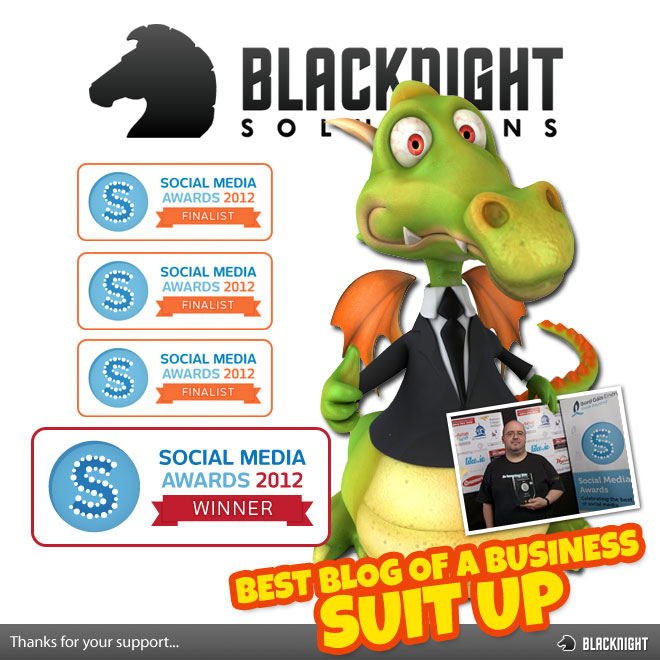 You know it's always nice when you're ending the week on a high. This weekend we're going in knowing that we've helped get 10,000 businesses online for free in Ireland, we've new staff starting, we're continuing to expand and we've gone and won a Sockie not to mention we'll be launching new products and services soon.
( Haven't been following the blog or the social media scene in Ireland? not to worry a Sockie is the affectionate name for one of the awards at the http://socialmediaawards.com/ which happened last night in Dublin ).
Whether or not you put much stock into awards I guess is entirely up to you these awards are different to some however in that anyone is eligible to enter and you don't need to fork over hundreds to enter or to get a seat so it's not about being one of the elite it's about open competition. Also the judges panel is made up of a massive 100 people from within the industry so you really are up against your peers here.
We were nominated for 4 awards on the night
Customer Care using Social Media (Integrated)
Blog of a Business
Best Business Twitter account
Facebook Page for a Business (owner managed)
and were up against some stiff competition from the likes of:
AIB, Argus Car Hire, Curious Wines, Eircom, Iarnrod Eireann, O2, Sage and Vodafone to name but a few so it's nice to see for a relatively small company we're up with the heavy hitters.
It was just our MD Michele Neylon attending and accepting the award (it being a school night and all).
On the night we came away with one award for Best Blog of a Business and we couldn't be happier ( well maybe if we won the other 3 categories we were in 😛 )
We revamped the blog back in November moving from MovableType to WordPress and giving it a bit of a facelift so it's nice to see that the hard work has paid off. For us it's always a point of some contention as to what to post in there. We're obviously a business so we try to keep you up to date on our latest offers and industry news without getting too spammy and while link love is nice we don't want to become one of those blogs just looking for traffic. We also try to inject our own sense of humour into things as can be seen from numerous posts featuring Ginger Cats / Green Dragons / Penguins and IEDR Promotional Graphics.
But to end on a more serious note on behalf of all the Blacknight team I'd like to say thank you for your continued support. Also a big thanks to Damien, Rick O'Shea and to everyone else involved with awards and for making what looks to have been a great night.
You may have seen we've recently started accepting some guest posts from people in the Industry so if you've got some advice you'd like to share that we feel would be relevant to our customers why not get in contact.
Let us know if there's anything else you'd like to see on the blog we've a wide range of experience within the company and have won awards for numerous things in the past so if our experience can help out our customers we can see what we can do.
Photo Credits: Rymus / Glassey Alley – Social Media Awards 2012
Related articles