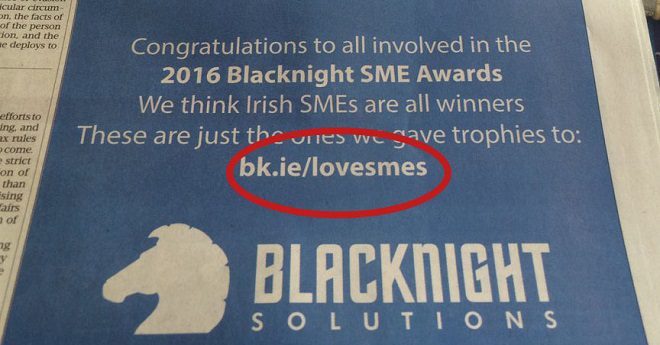 We had a busy weekend as sponsors of the Blacknight SME Awards in Cork. It also gave us an opportunity to use our new two-letter IE domain, bk.ie, in a newspaper advertisement in yesterday's Sunday Business Post.
One and two-letter IE domains only recently became available due to a policy change at the IE Domain Registry (IEDR). The 'landrush' phase for those domains ended recently, and auctions are currently underway for those domains which were contested, i.e. for which more than one application was received.
Fortunately for us, our application was uncontested, and we put our new domain name into service right away, as a URL shortener for links we want to share with the public.
We used it in a few tweets last week. Then, on Saturday night, we posted the results of the awards at blacknight.com/lovesmes. That's not a particularly unwieldy URL, but how much simpler it is to type bk.ie/lovesmes – as you read it in your Sunday newspaper.
We're not sure if this is the first use of a short IE domain in print, but it's certainly up there! Of course, ul.ie has been in use for many years – the sole exception to the old IEDR policy.
Short domains are useful in these kind of marketing situations where you can't simply click a link (because it's on a printed page, or spoken on radio or TV). For this reason, they're at a premium with most registries.
IEDR's rules are somewhat different however, and if you qualify for an IE domain in accordance with the usual requirements, then a two-letter IE domain will cost you no more than usual.
As we reported last week, IEDR have announced that opening of General Availability (GA) for short IE domains will be delayed. We expect it to re-open in May, but the date remains to be confirmed. We'll let you know as soon as they tell us.
In the meantime we are taking applications to pre-order short IE domains, which we will submit as soon as GA opens. Over 500 two-letter strings remain unregistered in the IE domain, so it's an opportunity to try and secure one that's useful and meaningful for you.
We're charging our standard IE registration fee of €19.99 to pre-order and, while we can check if a string has already been allocated, we can't guarantee that the IEDR will process our applications before any others, when GA re-opens. Please note, therefore, that pre-order applications are not guaranteed to succeed, and the €19.99 is not refundable. If that's an issue for you, you should wait until the General Availability phase opens and you can apply for domains in the usual way.
Related articles