Our logo is a horse's head. You'll see it in various formats on all our websites, business cards, headed paper, adverts and everthing else..
Now we've been sent not one, not two but four horse's heads in our logo's style, but made of polystyrene foam (big thanks to MadeInHollywood)
Now let's be honest, they are cool. You can say what you like, but they are fun objects.
The problem is now that I've got four horse's heads sitting in my office I honestly don't know what to do with them: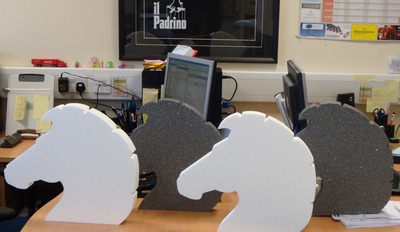 So here's what we'll do….
We're inviting you to make suggestions on what we can do with them via the comments here and we'll give something "nice and shiny" to the winner.