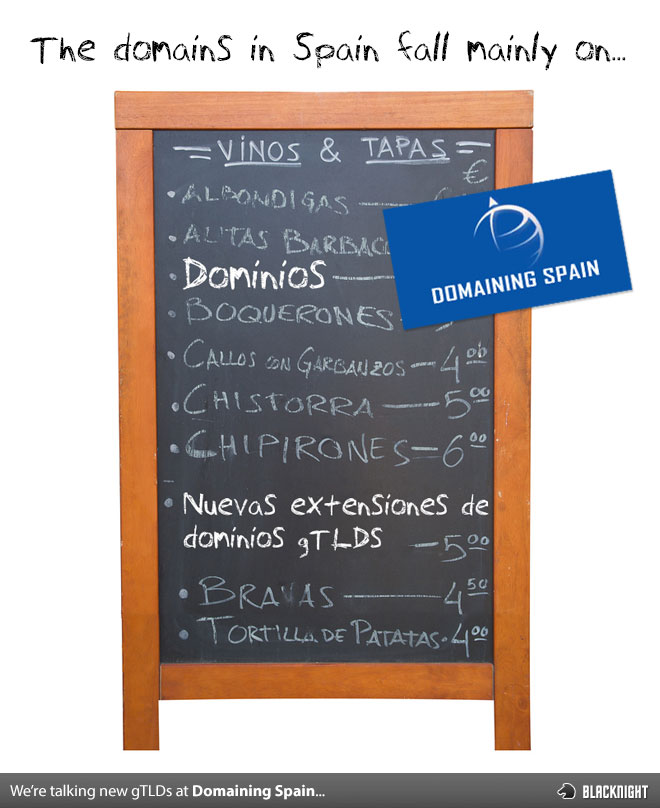 Next week I'll be heading off to Valencia in Spain for Domaining Spain 2013. I'll be speaking on a panel next Thursday afternoon which will be focussed on new TLDs. The panel will include myself, Tim Switzer from .Green and Xavier Buck (EuroDNS). Tim and I have been playing email ping pong about the panel on and off for the last couple of weeks so we should have quite a lively discussion.
The rest of the conference will be a mixture of sessions on both existing domain name extensions, including ccTLDs and the upcoming new TLDs. There'll be panels on legal issues, policy, marketing, investing and a whole lot more.
Full details over on the conference site.
Here's our press release:
Blacknight CEO to Speak at 2013 Domaining Spain Conference
Leading registrar to discuss impact of New TLDs

April 22, 2013 – Carlow, Ireland – Leading Irish domain registrar and hosting company Blacknight heads to Spain to speak about New TLDs at the 2013 Domaining Spain Conference.

Domaining Spain (http://domainingspain.com/) , which is in its second year, is billed as a ccTLD and New gTLD conference. The event will be held from April 25 through the 27th at the Sorolla Palace Hotel in Valencia, Spain.

The Domaining Spain agenda includes a keynote speech by Godefroy Jordan titled "New frontier in domain names: Why new gTLDs are going to be a huge success and will change the Internet user experience!" A Q&A with Trademark Clearing House and a session on "Myths and Truth about Traffic Portfolios."

Blacknight CEO, Michele Neylon will speak on a panel discussing the impact of New TLDs. Neylon will be joined on the panel by Tim Switzer of .Green and Internet Entrepreneur Xavier Buck.

Neylon, a seasoned conference speaker who opines on a variety of registrar issues has been closely involved with New TLDs. "I am honoured to be speaking at Domaining Spain," Neylon explains. "As a European registrar, I will lend the registrar perspective on the impact of New TLDs. There are a lot of issues on the registrar side that people who aren't entrenched in that part of the business need to know but might not think of. "

Also speaking throughout the event are: Andee Hill, Director of Development for Escrow.com; Natasa Djukanovic, Sales and Marketing Director for Domain.me and James Morfopoulos, Director for DomainTools Inc. and the COO of Ocean Networks Inc.

The organisers of Domaining Spain stress that the conference is not only focused on updates and new information regarding today's domain industry and where it is headed. Domaining Spain is also a place for select industry movers and shakers to meet up with the others and extend their networks and forge new business relationships.

Neylon Continues: " The Spanish internet is such a rich resource, particularly with the inclusion of the Catalan community, which Blacknight fervently supports. One of the larger goals of Blacknight is to work to strengthen the ties of the European Internet community and Domaining Spain provides a great space to exchange ideas and grow our relationships."

To learn more about the Domaining Spain 2013 Conference, please visit http://domainingspain.com/

About Blacknight:
Blacknight (http://www.blacknight.com/) are an Irish based, ICANN accredited domain registrar and hosting company. Recipients of several awards for their revolutionary use of social media, Blacknight are one of Europe's most cutting edge Internet companies. Blacknight constantly seek to lead the way by introducing innovative solutions for its client base and provide dedicated servers and co-location as well as a comprehensive range of Microsoft Windows and Linux based hosting plans and domain name registration services to business globally.
(Original Image tapas menu in valencia from BigStockPhoto)