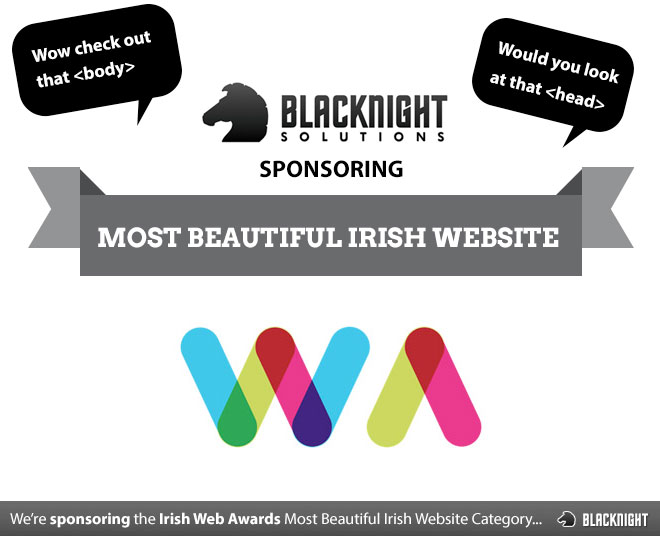 We're strong believers in industry awards that are inclusive so we're delighted to be involved with this year's Irish Web Awards
Press release below 🙂
Blacknight Sponsor the 2012 Irish Web Awards

October 8, 2012 – Carlow, Ireland – Leading domain and hosting company Blacknight have announced sponsorship of the 2012 Irish Web Awards.

Blacknight, an award winning company in its own right is sponsoring the category "Most Beautiful Irish Website". The Irish Web Awards (http://webawards.ie/) , now in their fourth year, will take place November 1, 2012 at the Mansion House in Dublin.

The Web Awards are unique as they honour the best work produced by the Irish Internet community with no strings attached. There is no entry fee, and winners are chosen by a panel of judges, so truly anyone can be nominated and win. The ceremony itself is a fun, informal celebration of everything that makes the Irish Internet great.

Blacknight (http://www.blacknight.com) feels that the Web Awards are an important asset to the Irish online community based on the incredible diversity among the nominees as well as the transparency of the selection and judging process.

Michele Neylon of Blacknight states: "We are proud to sponsor the Irish Web Awards as they promote what I consider to be the right kind of community. The awards are fairly and transparently chosen with no pretension, it's very genuine. The nominees in the "Most Beautiful Website in Ireland" category all offer an elevated user experience and a superior aesthetic sense and we are delighted to see the final outcome."

The Irish Web Awards are organised by Damien Mulley, owner of Cork based Mulley Communications (http://www.mulley.ie) . He is also the organiser of the Social Media Awards (http://socialmediaawards.com/). Mulley and Neylon are longtime colleagues and collaborators.

Mulley explains of the awards: "The work we do Online can be quite isolating and feedback is rare. We feel that these awards are an important reminder to the Irish online community that their work isn't going unseen and unnoticed. We want to encourage everyone out there with a website to continue to create things for the online community and to let them know that someone is watching."

Mulley continues: "We're delighted that one of the biggest and native web companies in Ireland are supporting us and sponsoring the Most Beautiful category, though with such a handsome CEO behind it (check out the Michele Neylon 2013 calendar) it's no surprise that Blacknight are sponsoring this category."

Michele Neylon describes Blacknight's choice to sponsor "The Most Beautiful Website in Ireland" category as an appreciation of good design. "The web has brought us absolutely fantastic, beautiful sites," Neylon explains. "We think it's important to reward people who understand gorgeous design because it makes life better. I was at a conference a few weeks ago and one of the speakers said 'You never know how bad design might affect someone's life.' That really struck me and motivated us to find ways, like this sponsorship, to reward good design."

The shortlisted nominees for The Most Beautiful Website in Ireland are: wexfordopera.com, flowersmadeeasy.ie, armour.ie, samspotatoes.ie, architecturefoundation.ie, burtownhouse.ie,abartaaudioguides.com, alzheimer.ie, refresh.ie, bulmers.ie, dublintown.ie, openhousedublin.com, realitalianfoodies.com, reelgoodstudios.com, daveydavey.com, 2012.photoireland.org, giftgenies.com,  sheenaoosten.com, appleby.ie, kilmeaden.ie

For more information about the 2012 Irish Web Awards, please visit http://webawards.ie/

About Blacknight
Blacknight are an Irish based, ICANN accredited domain registrar and hosting company. Recipients of several awards for their revolutionary use of social media, Blacknight are one of Europe's most cutting edge Internet companies. Blacknight constantly seek to lead the way by introducing innovative solutions for its client base and provide dedicated servers and colocation as well as a comprehensive range of Microsoft Windows and Linux based hosting plans and domain name registration services to business globally.