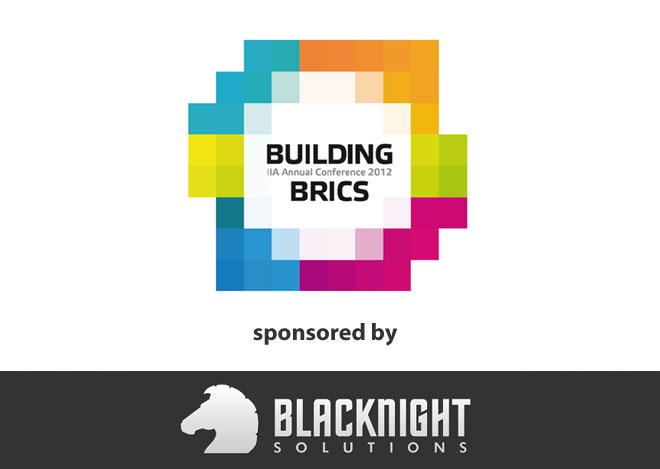 Carlow, May 1st 2012
Blacknight announce sponsorship of the Irish Internet Association Annual Conference 2012 "Building BRICS".
The conference, which will be held Thursday May 10, 2012 at Aviva Stadium, promotes a theme of  "Enabling Business Expansion" and will focus on social media, localisation and mobile.
The IIA Annual Conference is not just for tech businesses, but also for all businesses that want to grow their online presence and is designed as a way for providers and clients to meet
A longtime member of the Irish Internet Association, Blacknight value the opportunity to be involved in the conference. "We are pleased to support the IIA Annual Conference 2012," Michele Neylon of Blacknight states. "Blacknight advocates getting Irish businesses online and are committed to giving those already online the tools to continue to succeed. The IIA Annual Conference is an excellent opportunity for Irish businesses to gain insight into the latest advances in the online marketplace."
IIA 2012 speakers include: An Taoiseach, Enda Kenny TD, Sharon Walsh,
Marketing Director of Heineken and Deborah Lynch, Developer Technical Services Manager of Paypal.
Neylon continues: "The IIA Annual Conference is a fantastic way to connect with other tech and online business owners who are experiencing similar challenges and creating problem solving techniques. It is important for the Irish business community to learn from each other and continue to develop new ideas."
The IIA Annual Conference aims to reach business owners, tech business owners, marketing professionals, strategists, and social media junkies. Previous conference audiences have consisted of a senior audience of decision makers with 39% having a C-level title or Director title. A further 29% are Managers. Delegates represent all industry sectors, 25% usually from outside Dublin and the organisation size matches the IIA's member profile of 20% corporates, 30% medium sized enterprises and 50% SMEs. A predominantly private sector audience is expected in 2012.
Join Blacknight in supporting the IIA Annual Conference 2012.
Please visit http://www.iia.ie/events/iia-conference/ to register and learn more about the IIA Annual Conference 2012.
To learn more about Blacknight hosting and domain registration visit: http://www.blacknight.com
About Blacknight:
Blacknight are an Irish based, ICANN accredited domain registrar and hosting company. Recipients of several awards for their revolutionary use of social media, Blacknight are one of Europe's most cutting edge Internet companies. Blacknight constantly seek to lead the way by introducing innovative solutions for its client base and provide dedicated servers and colocation as well as a comprehensive range of Microsoft Windows and Linux based hosting plans and domain name registration services to business globally.
Related articles