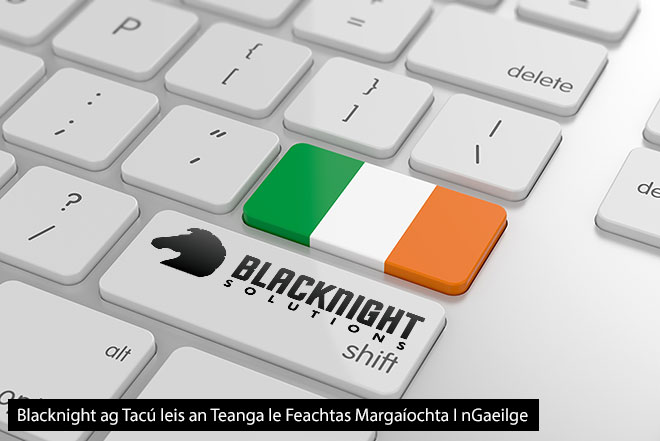 Blacknight is a 100% Irish owned and operated company. There are a whole load of reasons why we are proud of being Irish and why we're happy to be Irish owned and based.
Today we are formally unveiling the first of our online marketing initiatives that is focussed on a local market. In our case the first and most obvious one is the Irish speaking market.
So we're delighted to share with you our new video: Ponc-Com: Don Domhan agus a bhfuil Ann
Our in-house digital guy, Conn, also happens to be a "gaeilgeoir" and speaks the Irish language fluently. So rather than outsource the localisation of the video to some $random 3rd party we were able to do it all in-house.
PR as Gaeilge agus as Béarla below (in Irish and English)
Blacknight Celebrates Irish Heritage by Launching First Commercial 'as Gaeilge'

Video for .COM domains is released for 'Seachtain na Gaeilge'

February 25, 2014 – Carlow, Ireland – Ireland's leading domain registrar and hosting company is proud to announce its first ad 'as Gaeilge' to promote dot-com domains.

Blacknight is a 100% Irish owned and operated company, proud of its roots, yet international in its outlook, serving more than 70,000 customers in 130 countries from its base in Carlow. This video ad for dot-com domain names is Blacknight's first step in using Irish as part of its marketing. The campaign has been approved by VeriSign, the company which operates the dot-com registry, and they've agreed to support further localisation of marketing in the Irish language.

Although Irish is taught in schools and census figures show that almost half of all Irish people claim to be able to speak the language to some degree, less than 8% use the language on a daily basis. Yet a majority of people view the language as an important cultural symbol of national identity and it has undergone a resurgence in recent years, especially among young people.

"It is a natural choice for us to do marketing in the Irish Language," explains Blacknight CEO Michele Neylon. "While many Irish speakers don't have the opportunity to use the language in day-to-day life, the Internet has led to a flourishing of online activity in Irish. Younger people in particular are active users of the language online, switching easily between Irish and English on social and entertainment media. We strongly support this resurgence of the language and we are playing our part in it."

The 30-second video commercial is aimed at small businesses in particular, and promotes the message that a dot-com domain name is a global standard recognised the world over, even if your next customer is "ar leac an dorais" – on your doorstep.

The Irish language soundtrack for the ad was produced in-house by Blacknight's Digital Media Producer Conn Ó Muíneacháin. Ó Muíneacháin is an award winning radio producer and a pioneer in the use of Irish in blogs and social media. He produced the first podcast in the Irish language, An tImeall, which began in 2005. An tImeall will be re-launched as a weekly podcast, sponsored by Blacknight, to coincide with Seachtain na Gaeilge, the national celebration of the language, which begins on Saturday, March 1st.

To view Blacknight's dot-com ad 'as Gaeilge' please visit http://youtu.be/AUoIeVk-dvw

Blacknight ag Tacú leis an Teanga le Feachtas Margaíochta I nGaeilge

Físeán faoi ainmneacha fearainn .COM á sheoladh do Sheachtain na Gaeilge

February 25, 2014 – Ceatharlach – Tá fógraíocht i nGaeilge á seoladh ag an gcomhlacht Blacknight, an príomhchomhlacht le haghaidh ainmneacha fearainn agus óstáil idirlín in Éirinn. Físeán fógraíochta atá i gceist le haghaidh ainmneacha idirlín na bhfearann ponc-com.

Comhlacht Éireannach is ea Blacknight, bunaithe i gCeatharlach le breis agus 70,000 custaiméir i 130 tír. Seo í an chéad chéim dóibh in usáid na Gaeilge ina gcuid fógraíochta. Tá tacaíocht ag an bhfeachtas ó Verisign, an comhlacht idirnáisiúnta atá i bhfeidhil na clárlainne ponc-com, agus déanfar aistriúchán ar ábhair fógraíochta eile a bhaineann leis an bhfearann amach anseo.

Tá cás na Gaeilge, agus seirbhísí i nGaeilge, go mór i mbéal an phobail faoi láthair. I dtuairim Blacknight, comhlacht Éireannach a bhfuil custaiméirí acu ar fud an domhain, is seod oidhreachta í an teanga: siombal den náisiún agus den éagsúlacht chultúrtha. "Luíonn sé le réasún go ndéanfaimís margaíocht i nGaeilge", a dúirt Michele Neylon, príomhfheidhmeannach Blacknight. "Cothaíonn an tIdirlíon cumarsáid agus éagsúlacht agus tá borradh agus rath ar usáid na Gaeilge ann, i measc an aos óg ach go háirithe. Seasann Blacknight ar son na héagsúlachta agus ar son na Gaeilge ar an Idirlíon".

Tá an físeán fógraíochta dírithe ar mionghnólachtaí, leis an teachtaireacht gurb é an fearann ponc-com "an chéad rogha do chúrsaí gnó ar an Idirlíon – bíodh do chustaiméirí thar lear – nó ar leac an dorais agat".

Tá an fuaimraon i nGaeilge léirithe ag Conn Ó Muíneacháin, atá fostaithe mar léiritheoir digiteach ag Blacknight. Tá gradaim bainte amach aige mar léiritheoir raidio agus bhí sé in a cheannródaí in úsáid na Gaeilge sna meáin sóisialta idirlín. Sheol sé An tImeall, an chéad phodchraoladh i nGaeilge, i 2005. Le tacaíocht Blacknight, tá An tImeall le seoladh athuair mar eagrán seachtainiúil, agus craolfar an chéad chlár an tseachtain seo chugainn do Sheachtain na Gaeilge.

Tá físeán Gaeilge Blacknight le feiscint ag http://youtu.be/AUoIeVk-dvw