Now that the days are getting shorter, it's a great time to tick off your to-do list of things you've been putting off – one of those things might be blogging. They're great for businesses to give a behind-the-scenes into the brand. Personal blogs are making a comeback too with college students starting their own as part of their course, and people jetting off and documenting their travels. Regardless of your reason to start a blog, here's the only guide you'll need to get you started.
Pick Your Niche
You probably already have an idea of what you want to cover on your blog, but if not, this is the first step to starting your blogging journey. Choose your industry or topic and decide on your target market. The posts you write and your style of language depends on what you're writing about and who you're writing to.
Decide on its Name & Domain Name
Before you start blogging, you'll need to give it a name. You can register a domain for this blog later so it's best to have a list of names that would suit your blog. Then, check to see if the domain name is available. The perfect domain name is of course, .BLOG. We use it on our blog, and so does Apple and Playstation. It immediately tells visitors what your website is about and is memorable which makes it easier to find online. If you have a main website (for example, an eCommerce website) you can ensure that your customers know where they can read news about your business.
Build Your Platform
Next, you need to decide where your blog is going to live. Post as often as you want and control your entire blogging platform with our easy-to-use SiteBuilder. Our 'Basic' plan allows you to create a 10-page website, blog, get a free SSL certificate and five free Stock images. By using our SiteBuilder, you have total freedom and can avoid having your blog controlled by free blog builders. Once you've set everything up, choose the design of your blog and begin posting as you please. If you want something more advanced, check out our WordPress hosting.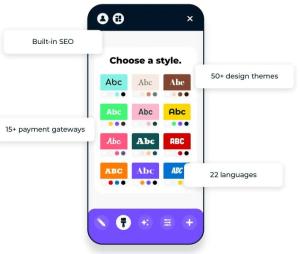 All that's left is to create your content. You could even post videos to your blog, allow visitors to comment, link your social media accounts and much more. Make sure to do some marketing and post your articles to social media and other channels to get the word out. Become a blogger today with Blacknight.