Blacknight is an Irish company that does business internationally. It helps a lot that we speak English, and that lots of other people do around the world. But as the Internet brings us all closer, it also reveals the rich diversity of our cultures and languages to each other.
Some people think that some languages are better suited to some topics than others: English the language of business; Italian the language of music; German the language of amazing compound words to describe things other languages have no word for.
When it comes to the Irish language, there are those who think it's not up to the task of describing modern concepts of technology and business. And some lovers of the language might even take the view that Irish should be reserved for poetry and culture (while English has been described as "the perfect language to sell pigs in").
We don't agree.
To celebrate Seachtain na Gaeilge, the annual festival of the Irish language, and in honour of Ireland's national day on 17 March, we're dragging Irish down into the data centre and putting it to work among the ríomhairí, líonraí, freastalaithe, lasca, and córais.
Is cúis áthais dúinn an ghrafaic fhaisnéise seo a fhoilsiú, le rogha frásaí a léiríonn cumas na Gaeilge i réimse na h-óstála agus na n-ainmneacha fearainn. Ní caint na ndaoine í seo, in aon teanga, agus is beag an seans go mbeidh tú ag plé buntáistí IPv6 ag do chiorcal comhrá. Ach más 'geek-Gaeilgeoir' tú, b'fhéidir go mbainfidh tú tairbhe agus sult as an liosta seo. Agus má tá téarmaí deasa Gaeilge agatsa le roinnt linn, beidh fáilte romhat. Fág tráchtaireacht ag bun an leathanaigh – go raibh maith agat!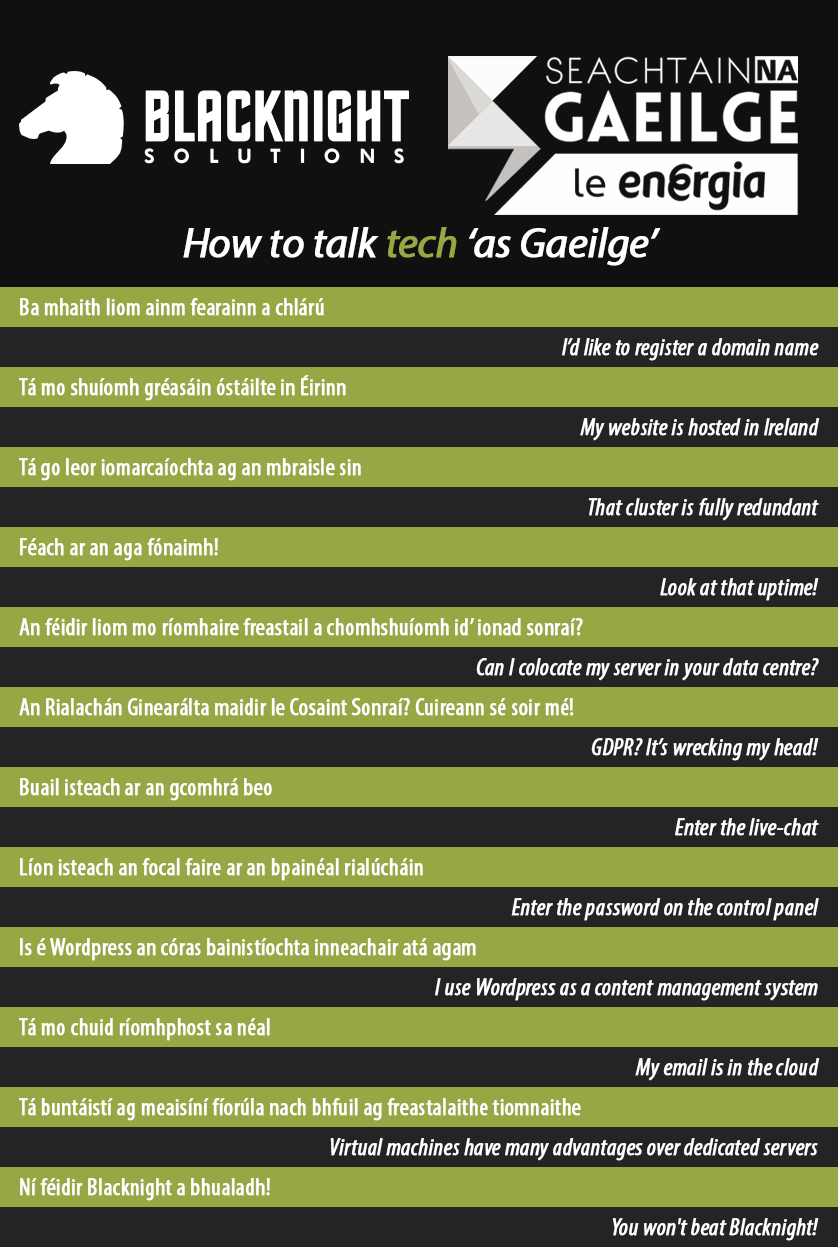 Ní h-í seo an chéad uair dúinn ag comóradh Sheachtain na Gaeilge. Féach an chatagóir Gaeilge ar an suíomh seo.