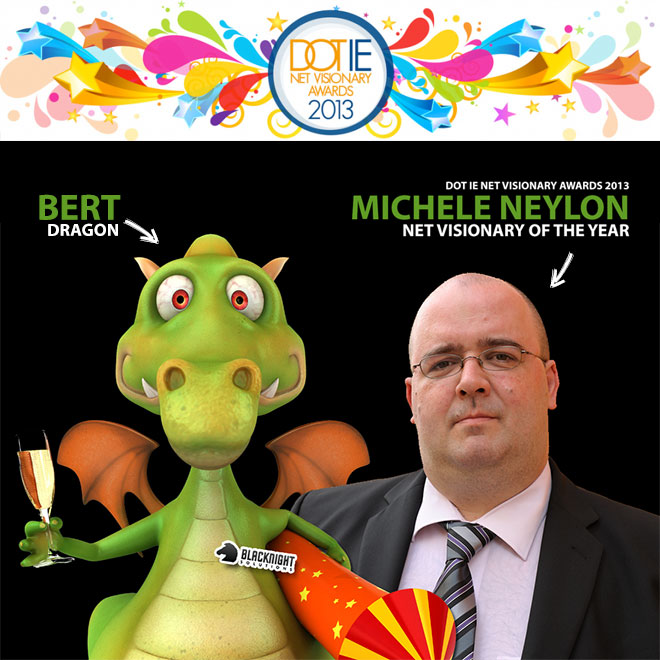 Last Friday evening Gianni, Conn and I headed up to Dublin for the IIA NetVisionary awards ceremony. We were sponsoring a category, so I'd planned on being there.
As the evening drew to a close Joan, the IIA's CEO, took to the stage to announce the overall Net Visionary award. As she worked her way through her speech, which I've published below, it dawned on me that I was the one being honoured.
To say that I was shocked, embarassed and humbled is an understatement.
You can see the entire thing here:
And here's Joan's speech, which really blew me away:
Technology, languages, leadership, innovation, courage, conviction, global
perspective and vision – these are the attributes required for our future
success. To find them embodied in a single person is extraordinary.

In a conversation earlier this year, one of our sponsors tonight said to
me "fair enough Joan, I'm happy to sponsor your awards, you never give
awards to muppets". You know Michele, you're right – we don't. You have to
be really really great at what you do, a very exceptional person to be the
winner of the Overall Net Visionary Award.

Last year, in honouring Eamon Leonard, we recognised that greatness is not
simply measured by the size of an exit but by an exceptional contribution
to our industry. This year's winner has gone farther (in metaphorical and
physical miles) than most.

He started his life at the centre of the physical universe (that would be
Cork) and his journey has taken him all the way to the centre of our
virtual one. His thought leadership on Internet freedom and ICANN policy
have put him at the centre of global Internet policy.

I said earlier on that it was important to pick battles that are big
enough to matter and small enough to win. This year's winner is a true
knight, one that is fearsome and fearless in his convictions and for whom
no battle seems too big. He has earned his seat at the round table having
been voted chair of the ICANN Registrar Stakeholder Group, the group that
represents the registrars of the whole world. He is the only European of
that executive committee and we are so proud that he is one of us.

We are the Irish Internet Association and this is our Overall Net
Visionary Award. You cannot get more NET, more VISIONARY and more OVERALL
than the ICANN Executive Committee and there is no more loyalty to be
proven by the guy who gave free hosting for a year to over 17000 Irish
businesses in their first year on-line.

Technology, languages, leadership, innovation, courage, conviction, global
perspective and vision all in one person. Michele Neylon I hope you still
agree that we only give awards to truly great people because this year we
are giving it to you!
You can read our official press release here.