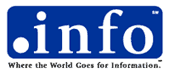 I did warn people that we'd have several announcements like this this week, so I'm not going to apologise!
Blacknight are now fully accredited with Afilias for .info.
In common with the other domain extensions we launched this week, all new registrations will be processed under Blacknight's ICANN accreditation. We will be enabling transfers in over the next few days (expect an update on that).
So what is .info?
The info tld is currently the 4th largest, with over 5 million domains registered worldwide!
What do people use .info for?
Pretty much anything and everything. The idea behind "info" was to use it for sharing "information", while other namespaces focussed on other things. Of course it's a completely open domain extension, so the only real limit is your imagination.
If you're a Twitter user, for example, you might find this .info site of help, as it explains the entire "fail whale" concept.
You can browse hundreds of cool .info based sites over on the dotinfo directory.
So if you want your own .info domain, then why not head over and get one now?