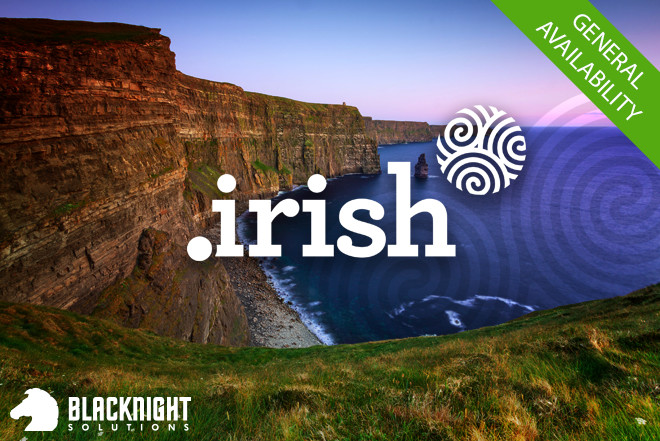 The moment has arrived! Dot-Irish, the new domain for everyone who's Irish – or wants to be – enters General Availability at 16:00 UTC, or 5pm Irish time, today.
Here at Blacknight we have a sophisticated pre-ordering system, allowing people to pre-order their domains for .Irish, and other TLDs, several months in advance. At 5pm, pre-ordered applications for dotIrish domain names will be submitted to the dot-Irish registry and, if the names are available, the orders will be confirmed.
Dot-Irish is just one of hundreds of Top Level Domains we sell here at Blacknight – but as an Irish-owned company, based in Ireland, employing Irish people, it's very close to our hearts.
That's because, like us, dot-Irish is outward-looking, yet truly Irish. In fact, we think being outward-looking, open-minded, enterprising and creative is an essential characteristic of being Irish (OK – we're biased).
For this reason, the launch of dot-Irish is a special cause of celebration to us here at Blacknight. As we continue to grow and expand our business, and as the wider gTLD expansion offers more and more opportunities to our customers, we're taking a moment to pause and cheer!
We're also launching a new podcast series to highlight and celebrate the achievements and ambitions of some of the pioneers of the dot-Irish namespace. More about that tomorrow, but for now: Fáilte roimh .IRISH!
Irish – or want to be? Register your .IRISH domain name now at Blacknight.Irish.
Related articles