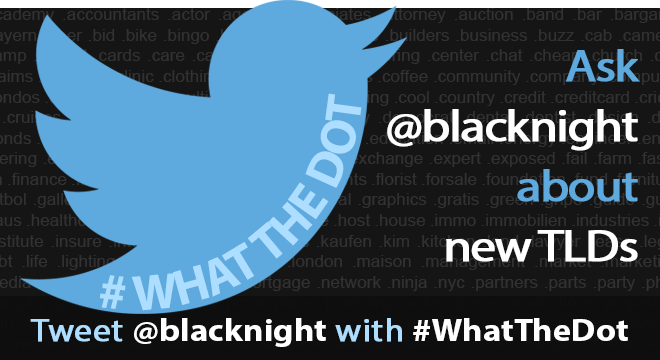 Have you heard about all the brand new domain extensions that are available now?
You probably have but if not, have a look at our FAQs below to find out what they are and how they can benefit you.
If you have any questions, you can tweet (using #WhatTheDot) or email our sales team.
Frequently ask questions about new TLDs
---
A domain extension is the portion of a domain name e.g. yourname.com to the right of the dot. So com, net, ie, me, biz are all domain extensions, or TLDs.
In the past, people have been restricted to a handful of TLDs and ccTLDs (country specific like .ie) but recently, hundreds of TLDs with more meaning and context have been released (and will continue to be released).
So, for example if you look at TLDs such as  .club, .london, .email, .company, .agency, you can immediately see the benefit of the  context they provide. If you're a cycling club in Manchester, you could register manchestercycling.club. Or a florist in London, buyflowers.london. You get the picture. And yes, there's .pics and .photos too 🙂
The .com TLD is one of the "original" TLDs and has been available for 30 years. With over 110 million .com domains registered, the likelihood of finding an available .com relevant to your business becomes increasingly difficult. The new TLDs offer the opportunity to register short, memorable and relevant domains.
Like some of the "older" TLDs, for example .ie, there may be a need to comply with some requirements from the Registry but the majority of new gTLDS are open to all.
Yes, Google and other search engines will rank new TLDs the same way as the "old" TLDs.
If your website is established and you've put a lot of effort in promoting your current domain name then we would not advise you to suddenly switch your website to a new domain, irrespective of the TLD. You could start by simply redirecting the new TLD to your current domain name and move to the new TLD once a proper migration plan is in place.
Generally its advisable to register similar names in other TLDs to protect your brand. There's no need to go over-board though. Pick TLDs that are relevant to your region / category.
The general rule is to make sure it's relevant to your business, service or information you're providing. So if you're selling shoes something like yourcompany.shoes  would be a good start.
Yes. You can forward your new domain like any other, to an existing website.