If you get a letter like the one below from Domain Renewal Group please bin it (click to enlarge):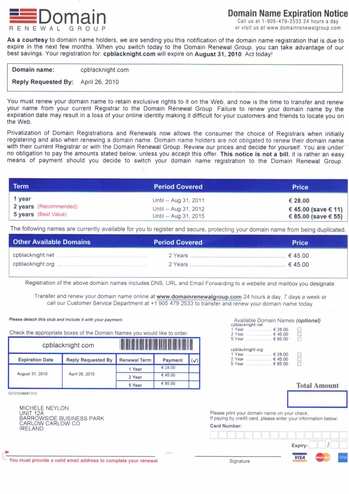 From what we've been able to work out Domain Renewal Group (DRG) and Domain Registry of America (DROA) appear to be the same organisation. We've mentioned their antics in the past
Domain Renewal Group send out thousands of these letters to domain holders in the hope that some people will be duped into signing up.
You'll notice up the top right corner:
Domain Name Expiration Notice
The domain they sent us this letter in relation to:
isn't due to expire / be renewed for several months
isn't registered with them (and never was!)
won't cost us €28 (obviously!)
It's worth reading the letter in its entirety and checking the back of it as well.
Key thing to note:
they are NOT an ICANN accredited registrar
Blacknight IS an ICANN accredited registrar
This kind of scam is highly misleading to our clients and domain registrants everywhere.
If you get one of these letters DO NOT act on it.
Domain registrars, such as ourselves, normally DO NOT send out paper renewal notices.
Even if we did send anything out it would be clearly branded as coming from us – Blacknight.