As a domain name registrar and hosting provider we're obviously interested in what's going on with domains. IEDR put out a report recently which goes into quite a bit of detail on what's going on in Ireland.
But what about the global market?
Are people and organisations still registering domain names for their businesses and which domain extensions are growing?
We keep an eye on what's going on and one of the sources of data that we rely on is reports like the Verisign Domain Name Industry Brief, which is issued quarterly.
Their latest report reveals a couple of interest data points:
Domain registrations are up 14.9 million year on year
As of June 30th 2019 there were over 142.5 million .com domain names
Growth in new TLDs is slow but steady at 5.9% year on year
So which domain extensions are the biggest?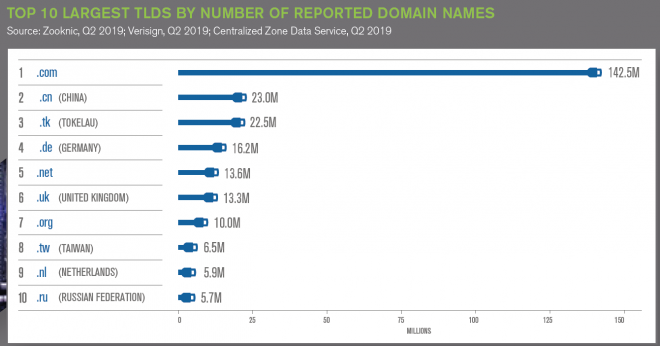 And if you just look at the country code top level domains (ccTLDs like .ie and .uk):

For a bit of context, Ireland's .ie ccTLD is currently at just under 276 thousand names.
While we often view social media companies as being a bit at odds at domain names Facebook's planned currency has had a notable impact on .com domain name registrations, with the term "libra" the most popular keyword in registrations during Q2 2019!
Having your own domain name for your business remains important and while some people might like to claim that "all the good names are taken" the data shows that people are still finding plenty of good names to register.