The total .IE domain database grew by 8.3% in H1 2019 compared to the same period last year, and by 39.7% compared to the same period five years ago, according to new figures published today in IE Domain Registry's biannual .IE Domain Profile Report.
At the end of H1 2019, there was a total of 273,156 .IE domains, compared to 252,222 at the end of H1 2018 and 195,440 at the end of H1 2014.
There was a small year-on-year decrease in new .IE registrations (-5.9%), but this is attributed to a 'post-liberalisation cooldown' after the surge in March 2018.
On 21 March 2018, .IE registration rules were liberalised, making it easier and faster for people to register a .IE domain by removing the requirement for registrants to prove their claim to their desired domain (evidence of a connection to Ireland is still required). This resulted in an unprecedented surge in new .IE registrations in the H1 2018 period; registrations have since returned to normal levels.
The report identifies 21 March 2018 as the busiest day ever for .IE registrations: 699 were registered in one day. The second busiest day recorded was on 4 June this year, when 361 names were registered. March (6,764) and April (5,765) last year were the busiest months, followed by January this year (4,948).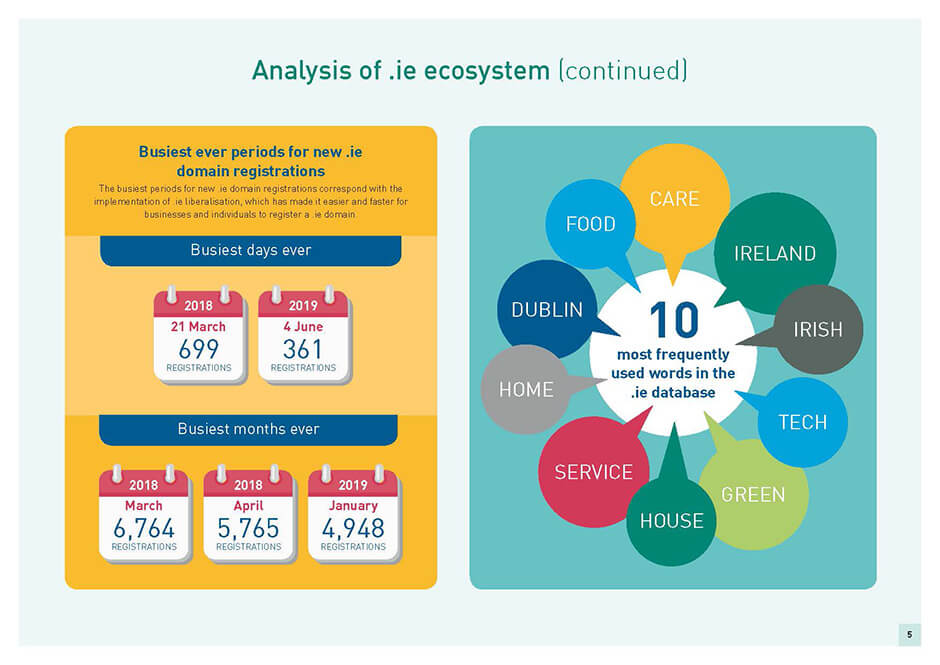 The report also highlights the growth in private sales of .IE domains, something which was formally approved in recent years. 240 domains were offered for private sale in H1 2019, up 75% from 137 in the same period last year. Some carried price tags in excess of €50,000, including sl.ie, baby.ie, sunhotels.ie, billionaire.ie, and blockchain.ie.
There's also evidence of an ongoing 'Brexit Effect' with new registrations from the UK up 18.9% on H1 2018 (contrasting sharply with the overall cooldown trend of -5.9%).
Derry recorded the largest increase in new .IE registrations in H1 2019 (+30.3%), albeit from a low base, followed by Laois (+28.5%) and Roscommon (+15.6%).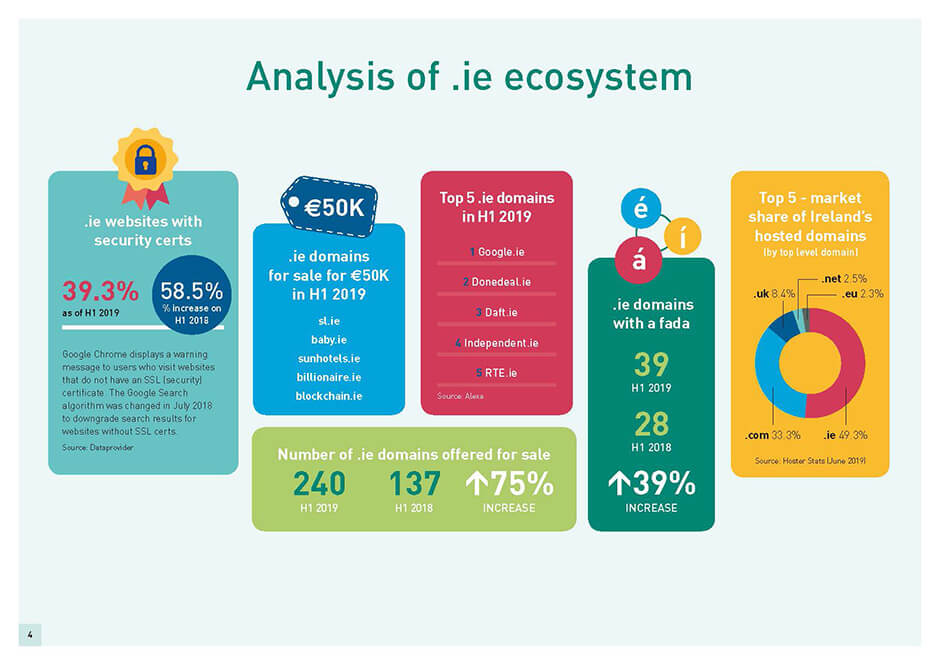 Other .IE facts:
39.3% of .IE websites had SSL (security) certificates at the end of H1 2019, a 58.5% increase year-on-year. Google now downgrades search results for websites without SSL certs
39 .IE domain names have a fada, a 39% increase year-on-year
Deleted or expired .IE domains available for purchase: 1922.ie, Sk8.ie, P45.ie, SlowCooker.ie, FiveMinutesofHeaven.ie, Flog.ie, and ShoppingIreland.ie
The five most visited .IE domains: Google.ie, Donedeal.ie, Daft.ie, Independent.ie and RTE.ie.
Blacknight are the .IE experts: more than 25% of all .IE names are registered with us. You can register a new .IE name for just €5.99 – or we'll give it to you for free with hosting or our siteBuilder.
Download the full report here.
* All prices exclude VAT. Offer applies to the first year only of a new registration. Domain names will renew at the normal price.