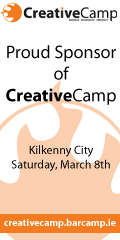 Last Saturday Creative Camp was held in Kilkenny Castle. I've been to some nice venues over the last couple of years (I used to live in a really nice one in a previous life!) and Kilkenny Castle definitely gives them a run for their money.
Although the castle is in the middle of Kilkenny once you step through the gates you'd be forgiven for thinking that you were in the middle of the countryside, as all you can see is grass and trees.
The facilities in the building itself are excellent and the organisers did a wonderful job in arranging to hold the event there.
Since Kilkenny is only about a 20 minute drive from the Blacknight offices we simply had to turn out "en force", so six of us headed over for the day.
One of the things about our line of business is that although we maybe in contact with clients and business partners on a regular basis via email, phone and other methods, we rarely get to meet them "face to face". Events like Creative Camp are very refreshing in this regard, as it allows us to meet people in an informal setting. It's also a wonderful opportunity to get feedback on our services. While we may be doing a good job there's always room for improvement and the only way that you can really find out about it is when someone "grabs you" in a corridor and lets you know.
Being able to bring so many members of the team to an event was a great experience as well, since normally it's just me and one or two others. This time round there was a mixture of our development team, technical team and sales team, which was good fun.
There were some very interesting discussions being held throughout the day culminating in a very interesting panel session in the main hall about "Women in Technology". It also marked the official launch of a new site Sass.ie (think of it phonetically!) which we are delighted to sponsor. (We may be capitalist swine, but we like giving back to the community as well)
After the day's events we headed off for a nice Chinese with a couple of clients and friends before making our way back to Carlow.
George, our sales manager, took some nice photos at the event which you can find here. I was going to post a couple of them, but they're rather big.