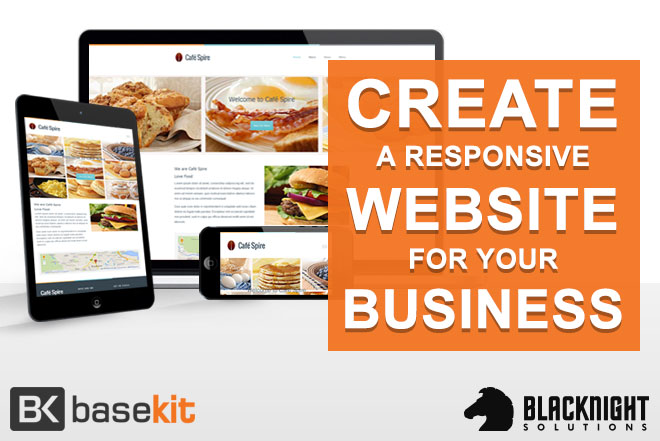 Being able to get a slick, stylish website used to be an expensive process. Sure, if you had the skills yourself you could build your own. But for most small business owners your skills lie elsewhere. You need to focus on building up your business, not designing your company's website. Money is tight. Finding a good website designer (or developer) takes time and if you want to do it properly there are ongoing costs associated with it. (Remember – a website isn't just for Christmas!)
We know this. We also know that in 2015 any website should be "responsive". What does that mean? If you have a couple of minutes I'd invite you to read the excellent guest post from Irish designer Stewart Curry. If you don't have time here's the really brief version:
A responsive site should work and display properly  on a desktop computer, a mobile phone or a tablet. 
In 2015 more and more users are either ditching their desktops completely or are spending way more time interacting with the web via their mobile devices. That's a reality. And it's a reality that impacts your website. If it doesn't well on a smaller screen or at least "degrade" nicely on mobile then your business can suffer.
So when we were looking for a new site building solution to offer you, our customers, we looked long and hard for something that would be able to solve this issue.
And so a few days ago, without any fanfare, we quietly launched our new site builder service.
You can check out a demo site one of our team put together here. And if you really want to "kick the tyres" try viewing it on your mobile phone, your iPad and your desktop. You'll see how well it works regardless of how small a screen you're using to view it.
Here's a quick overview of the features you'll be able to access:
We think it's pretty slick and we hope you do too.
It's a 100% hosted service, so you don't have to worry about updating the software – we do that all for you.
Depending on which plan you choose you'll have plenty of space, bandwidth and features to help you create an attractive online home for your business.
All you need is a domain name and you're set!
Read a bit more about this new service in our press release here.