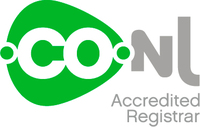 Several months ago when co.nl was in the planning stages we were asked if we would be interested in offering it to our clientele, and thus became the
only accredited
registrar for co.nl in Ireland.
We are now offering co.nl domain registrations via our main site.
Co.nl is an interesting alternative to .nl domains, as there are no local presence restrictions or requirements, so just about anyone can get a co.nl!
We obviously grabbed ours!
As an introductory offer we're offering them at EUR9.99.
One thing, however, as the co.nl domains have only gone "live" this week the registry operator is not allowing nameserver or contact updates until mid-June, so if you want to use external nameservers you will need to specify them during the signup.