From later this month there will be some big changes coming to .ie domain names.
The .IE registry will be switching over their backend system to a completely new one, called Titan, which means that there'll be some changes to how things work.
Admittedly a lot of the changes are "behind the scenes" and won't have any tangible impact on how you register, manage or use .ie domain names.
However there are a few changes coming that might have some impact on users.
The Big Switchover
On Sunday 15th November .IE will be taking their backend systems offline from around 10am until Monday 16th November around 2pm.
While the registration systems are offline existing .ie domain names will continue to work as normal. DNS, email, websites and other services using .ie domain names will continue to work just fine.
However it won't be possible to register, transfer, trade or update domains while the systems are being changed over. Also there'll be no processing of pending registrations.
Basically if the domain is up and running it'll be fine, but you won't be able to make any changes of any kind to it. If you want to move the nameservers of a .ie domain name you should do it before Sunday morning or you'll have to wait until Monday afternoon.
So what is changing?
The most noticeable changes are to the domain lifecycle and how it behaves.
Again, for a lot of domain registrants the impact will probably not be noticeable.
Here's a graphic to show the lifecycle: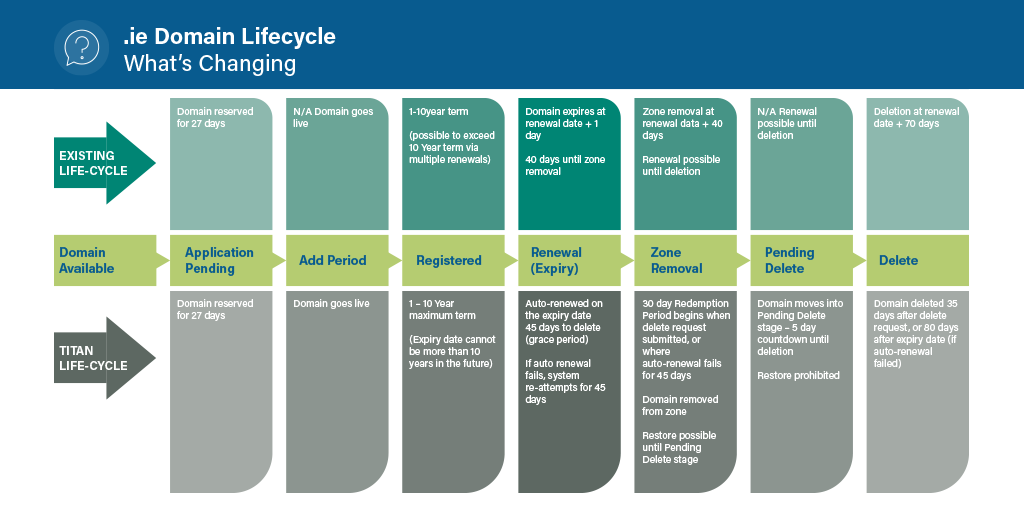 The main differences are with how domain expiries are handled and their timeline.
You can see from the graphic that the timelines will change a bit, though it won't impact you as long as you pay your renewal fees!
Whois output changes
There's also a change in the whois output which will bring it more into line with gTLD whois in terms of data elements like the domain status.
The whois output for a .ie domain name currently looks like this:
Domain:                  blacknight.ie
Domain Holder:           Blacknight Internet Solutions Limited
Admin-c:                 AAE553-IEDR
Tech-c:                  AAM456-IEDR
Account Name:            Blacknight.ie
Registrar Abuse Contact: abuse@blacknight.com
Registration Date:       21-August-2003
Renewal Date:            21-August-2028
Holder-type:             Billable
Locked status:           YES
Renewal status:          Active
In-zone:                 0
Nserver:                 ns.blacknightsolutions.com  
Nserver:                 ns2.blacknightsolutions.com  

While there have been minor changes to the formatting and the addition of one or two fields that output has barely changed in the last 20 years.
Under the new system the output will look more like this:
Domain Name: blacknight.ie
Registry Registrant ID: 517113-IEDR
Registrant Name: Blacknight Internet Solutions Limited
Registry Domain ID: 552809-IEDR
Registrar WHOIS Server: whois.iedr.ie
Registrar URL: http://www.blacknight.com
Updated Date: 12/11/2020
Creation Date: 20/08/2003
Registry Expiry Date: 21/08/2028
Registrar: Blacknight Solutions
Registrar Abuse Contact Email: abuse@blacknight.com
Registrar Abuse Contact Phone: +353.599183072
Domain Status: Registered
Registry Admin ID: 268226-IEDR
Registry Tech ID: 68653-IEDR
Name Server: ns.blacknightsolutions.com, ns2.blacknightsolutions.com
DNSSEC: Unsigned
The new output is more closely aligned with what you'd see in the whois output for a generic top level domain (gTLD) like .com or .blog. Some of the terminology is also being updated to align it more closely with that used by gTLD domain registries.
Other Changes?
With .IE moving to a system that uses a form of EPP (extensible provisioning protocol) ie. a more standards based one, we will have the ability to treat .ie domains more closely in line with how we treat other domain extensions. If you look at the lifecycle, for example, you'll see that registration periods and other things are being cleaned up.
If you need any help registering or managing your .ie domain names please let us know!